Voi studies e-scooter impacts on cities and the climate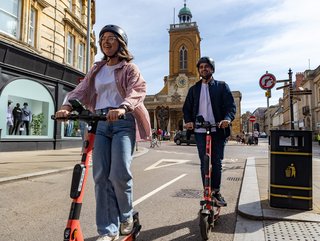 Voi e-scooters provides equitable transportation that encourages consumers to use more sustainable transport solutions to save the climate while commuting
Shared e-scooters are taking over cities, but that's a good thing.

Electric vehicles (EVs) are pivotal in reducing urban emissions, but e-scooters come with other major benefits, such as convenience, ease—all because of technology.

A solution that allows pedestrians to log into an app and get nearby transport at the fraction of a taxi or uber fare is revolutionary. Therefore, innovators in the e-scooter space are looking to spend more money on growing their networks and supporting more cities in their efforts to provide more suitable mobility solutions.

Voi is one of these companies looking to increase its reach, but it has also had profound effects on the high street, increasing spend on food and beverages by £37mn in 2022. Inclusive of the climate benefits that come from using e-scooters in cities, the value promoted by Voi scooters equates to £53mn per year across all areas they are used in.

"Since we launched our first e-scooter scheme in August 2020, we've seen incredible rider adoption, enabling people to use affordable, sustainable transport in their daily lives and spreading the benefits of micromobility across the UK," says Matthew Pencharz, Head of Policy in UK and Ireland at Voi.
Richard Dilks, Chief Executive of CoMo UK (a national body dedicated to promoting the public benefit of shared transport), says: "We are pleased to see this insight into the economic and growth impacts of shared e-scooter operations."
"The schemes' popularity and ability to provide low-carbon transport options have been well demonstrated—and will be examined in a forthcoming CoMoUK report—so it is exciting to see research such as this investigating other aspects of the schemes."
High street research will drive e-scooter expansion
Voi has been looking into its impacts on the high street and the great effects it has had on bringing commerce back to businesses. The company commissioned Volterra Partners in a research project to produce 'Shared e-scooters: A summary of the socio-economic benefits'.
The report actually goes beyond the high street to look at all areas of impact that e-scooters have on global environmental, social and governance (ESG). It takes a deep dive into the emissions impacts in the UK and highlights the percentage of decongestion by individual cities, including: Birmingham (8%), Bristol (38%), Liverpool (20%), Cambridge (8%), Northampton (11%), and a further 15% in other areas.
Equality is also a topic that many EV companies must address as more commuters and travellers look to gain the benefits of electrification—which is often hindered due to the initial costs. Representing the income of users, the report suggests that not only are low-paid individuals using the service, but many of those earning between £25,000 to £50,000 are more likely to use the Voi app.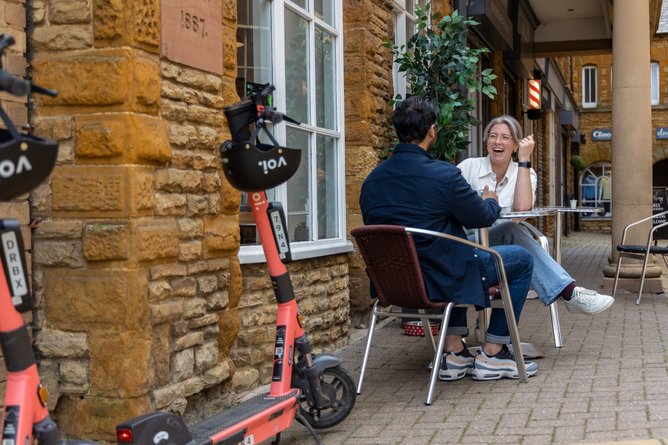 "This research gives us evidence that we are achieving what we set out to do at Voi—creating cities made for living by encouraging people to get out of their houses and cars and experience their local areas—and at the same time reducing the harmful effects of powering transport with fossil fuels," Pencharz says.
The study also shows that around 30% of consumers use e-scooters to commute to work, but in Bristol, UK, around 60% of all morning trips end in the high-employment areas.
"We're only scratching the surface of what is possible with micromobility in the UK, says Pencharz. "Hopefully, more people will get to enjoy the economic benefits of shared e-scooters beyond 2024."
Comments from the Mayor of Bristol, Marvin Rees, also highlight just how critical e-scooters are to modern commuting.
"E-scooters are now an important part of our city's modern, sustainable transport mix," says Rees. "It's encouraging to see the impact they are having on Bristol's local economy: giving many of our residents the freedom to hop on and off across the city, enabling them to get to work, study and leisure destinations."
"We are living in a climate emergency. E-scooters, along with walking, cycling and public transport, offer realistic alternatives for day-to-day car use and will help us reduce air pollution and carbon emissions."