Siemens Mobility will digitise electric trains in Austria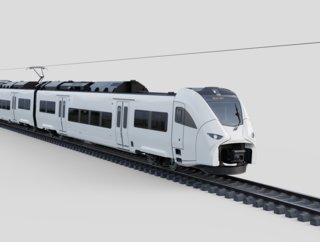 Credit: Siemens Mobility | Mireo platform trains will be built for Austria's national railways
Siemens Mobility Mireo trains will generate more efficient transport for the public across Austria and CEO James Peter is proud of the OBB partnership
Something that gets pushed aside in most decarbonisation talks is trains. We forget that, despite their relatively high costs to the consumer, trains have been electrified for quite some time and continue to make a huge impact on how people travel.
Commerce in major cities thrives off public transport and trains are the most commonly adopted solutions for mass transport nationwide and internationally. The fact that it's possible to reach all major cities in Europe by train is extraordinary.
At the heart of some of the most advanced trains yet is Siemens Mobility—one of the most sustainable companies in the world that provides digital infrastructure and technologies to decarbonise a number of industries.

As of the 31st August 2023, the company holds the framework agreement for development of up to 540 new trains to be distributed across the Österreichische Bundesbahnen (ÖBB) rail network—the Austrian national rail operator.
"Siemens Mobility and ÖBB have long enjoyed a strong and trusting partnership. We are proud to be delivering a further development of the Mireo platform to ÖBB for the company's new fleets," says Michael Peter, CEO of Siemens Mobility.
"With numerous innovations, low energy consumption, and a high level of passenger comfort and convenience, the new Mireo trains will help make ÖBB's local and regional transport even more attractive."
The news came just a week or so prior, Siemens announced its work to digitise the country's railways and make public transport more attractive to its people.
"Efficient railway infrastructure is critically important for achieving Austria's climate goals. To help us handle the expected increase in rail traffic and shift away from roads, we are relying extensively on digital initiatives, and ETCS Level 2 is an enormously important component for railways of the future," says Dr Johann Pluy, CEO of ÖBB-Infrastruktur AG.
"The framework agreement signed with Siemens Mobility is based on a Europe-wide tender and we're looking forward now to working with the best bidder to equip further rail routes with Level 2."
What is the ETCS Level 2?
The European Train Control Systems (ETCS) come in various different forms with levels to explain their current stage—much like that of automation in the electric car world.
At Level 1, the train's onboard system will monitor and manage speed, braking, the status of the locomotive and carry out non-continuous communications between the vehicle and the track.
Operating at Level 2 provides further insights from track to train with more digital supervision via GSM-R communications. Trackside equipment is capable of providing integrity checks and lineside signals are optional.
The ultimate solution that would provide the most insight is ETCS Level 3, which alleviates the need for lineside signals and train detection. The system in place creates a continuous connection between the train and the track for a constant feed of data and analysis.
Meeting all customer requirements with electric trains
The agreement for supply of trains to Austria will result in up to 540 of Siemens Mobility's Mireo trains, which generate energy efficiency along the entire line by reduced consumption up to 25% compared to similar trains.
Each train is enhanced for aerodynamics as well and weight is cut to maximise the potential savings of each locomotive.
******
EV Magazine is dedicated to creating a global community of businesses, experts, and EV enthusiasts with comprehensive insights into automotive and the surrounding sectors.
For more EV insights check out the latest edition of EV Magazine and be sure to follow us on LinkedIn & Twitter.
You may also be interested in Sustainability Magazine and Energy Digital Magazine.
*********************************************
BizClik is a global provider of B2B digital media platforms that cover Executive Communities for CEOs, CFOs, CMOs, Sustainability Leaders, Procurement & Supply Chain Leaders, Technology & AI Leaders, Cyber Leaders, FinTech & InsurTech Leaders as well as covering industries such as Manufacturing, Mining, Energy, EV, Construction, Healthcare + Food & Drink.
BizClik – based in London, Dubai, and New York – offers services such as Content Creation, Advertising & Sponsorship Solutions, Webinars & Events.