Bo addresses micro-mobility issues with its first e-scooter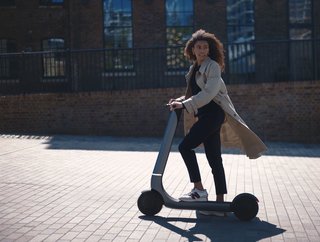 The revolutionary e-scooter that brings engineering experts from the automotive world into a new era of micro-mobility
It's more than just an e-scooter. Oscar Morgan, CEO and Co-Founder of bo, recognises current consumer micro-mobility challenges which power its e-scooter
It's no surprise that the idea of innovation is changing significantly, which is due in part to the electric architecture that companies are using in place of engines. This creates more opportunities to experiment with the size and complexity of vehicles and their onboard systems to make mobility more comfortable and safer.

Equally important is the transition to low impact transport, which is paramount in cities globally. Micro-mobility options, such as e-scooters, e-bikes, and e-mopeds, are gaining traction thanks to a number of consumer-focused, shared mobility solutions providers and more commuters are open to the idea of owning an e-scooter or using one to travel to and from work.

Nevertheless, there is still a large population that is either sceptical or yet to see the benefits that come from personal micro-mobility. Cue bo, the startup based in Bristol, UK, which hopes to change this narrative and created a new movement in this space with first model e-scooter and the proprietary technologies within the vehicle.

The bo e-scooter is wholly an electric vehicle
The first, and perhaps most crucial, thought to address is the significance of e-scooters in the mobility landscape. Historically used as toys, scooters are becoming more popular and according to Oscar Morgan, CEO and Co-Founder of bo, it's important to recognise that e-scooters can be classified as vehicles.
Tapping into his engineering expertise gained during his time at Williams Advanced Engineering, Morgan's aim is to bring the high-quality design and build principles of the automotive industry and inject this into its first simplistic, robust, and technologically advanced e-scooter.
"To create a vehicle in what is currently a category of toys, what do we have to do?" says Morgan as he explains the thought process behind the bo M and the features that can now be found in the vehicle.
"Everything we do at the moment is entirely focused on the ride experience," Morgan says.
"Today, 2% of the commuting population feel comfortable riding a scooter whereby if you hit a bump in your area, you have to concentrate on the road. But, they see that as a worthwhile pay-off given the improvement of their journey times and the fact they don't have to park and they're cheap to run."
This is where the strategy of bo comes into play as the startup looks to deliver a solution that will bring onboard the other 98% of the population that are yet to find what they need from electrified scooters.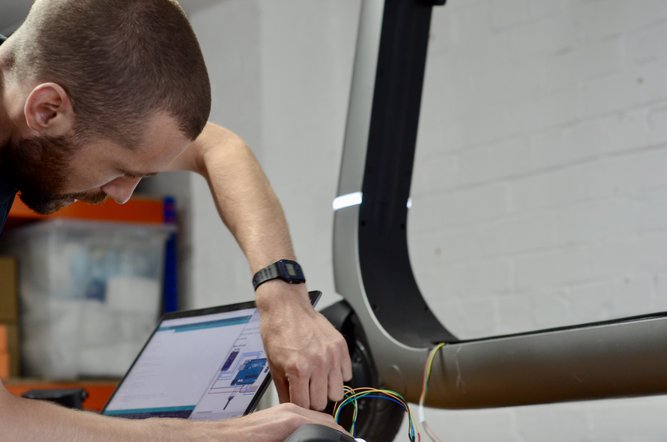 Innovation taking place at the bo workshop
Safety becomes paramount on electric scooters
It's also important to recognise the safety concerns to realise how they have allowed bo's product to evolve. With already many cases of e-scooter accidents, the general consumer is still yet to look at the safety concerns and see the true benefits of e-scooters. But, with more infrastructure in place, such as bicycle routes, there is already a path laid out for them to find a much simpler, safer route to their destination.
Where the bo M takes this a step further is by improving the journey—making the experience of riding a scooter not only more comfortable, but pleasurable. The team has really thought this through, starting with technology.
Safesteer and the Air Deck are the two groundbreaking features that we see on the bo M, which address the aforementioned discomfort and ride efficiency. The proprietary Safesteer technology is used for steering and enables balance while riding around corners and can even stabilise the bo M.
While never recommended, the rider is even able to take their hands off the handlebars and ride comfortably—which is stressed as a means of showcasing how well the Safesteer function performs. Mimicking the geometry of a bicycle, the Safesteer system looks to bring the steering column back to centre, therefore stabilising the weight of the vehicle.
"Our focus is on trying to create the simplest iteration of Safesteer we possibly can—something that can be entirely reliable and won't give us any problems as we enter this marketplace," says Morgan.
Now, taking a look at the Air Deck, we begin to see how the team has adopted an engineered approach to the e-scooter as it leverages a model contrary to automotive suspension to alleviate the gruelling feeling on a bumpy road.
"We want our customer to be insanely comfortable, but there are certain things on a scooter that challenge physics," says Morgan.
By addressing the challenge of weight distribution, particularly when the ride is much heavier than the vehicle, the Airdeck solution was born to cope with variable users. Instead, the component Morgan refers to is an 'engineered elastina', which mimics the functions of trainers. Using a layer of similar material for the Airdeck to the same effect will dampen the vibrations from the road's surface.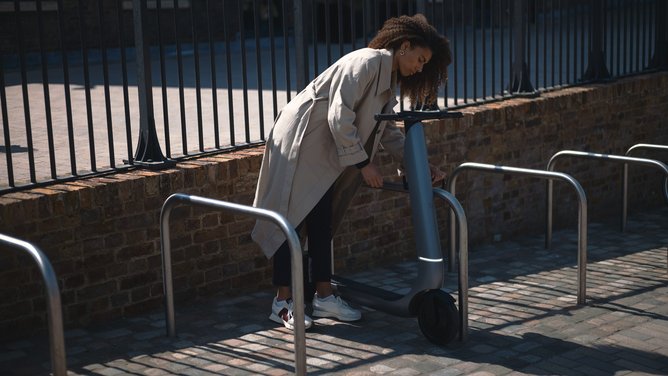 The bo M e-scooter lifestyle application—the locking function
The electric future of comfort and urban mobility
The bo M marks itself as more than just another product, but a vehicle that will allow riders to move around cities more conveniently. This ultimately changes the narrative while addressing some of the crucial problems that are seen in the industry today, such as safety, efficiency, and overall adoption.
By making something that truly meets the needs of the prospective customer, bo is willing to use this project as a commercial endeavour but also holds promise that more companies will arise to make e-mobility much more accessible for consumers.
When it comes to giving consumers peace of mind that their investment in micro-mobility will be safe, bo strives to create the M as a vehicle that is 'unstealable' by design and incorporate functions to alleviate theft and damage. Effectively, the team is working to cover all the bases with a GPS tracking function, dedicated d-lock hooks, and the build is robust yet unusable if dismantled by a potential—which would ultimately render it worthless to them.
Other great touches like the luggage hook at the front make the experience and the simple, modern design of the bo M is for all to appreciate.
******
EV Magazine is dedicated to creating a global community of businesses, experts, and EV enthusiasts with comprehensive insights into automotive and the surrounding sectors.
For more EV insights check out the latest edition of EV Magazine and be sure to follow us on LinkedIn & Twitter.
You may also be interested in Sustainability Magazine and Energy Digital Magazine.
Please also check out our upcoming event - Sustainability LIVE in London on September 6-7 2023.
BizClik is a global provider of B2B digital media platforms that cover Executive Communities for CEOs, CFOs, CMOs, Sustainability Leaders, Procurement & Supply Chain Leaders, Technology & AI Leaders, Cyber Leaders, FinTech & InsurTech Leaders as well as covering industries such as Manufacturing, Mining, Energy, EV, Construction, Healthcare + Food & Drink.
BizClik – based in London, Dubai, and New York – offers services such as Content Creation, Advertising & Sponsorship Solutions, Webinars & Events.