Are consumers prepared to purchase electric vehicles?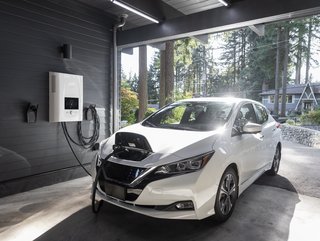 The automotive industry is undergoing a significant power shift, but if consumers were not ready to buy, sector sustainability would not be possible
There are multiple factors that determine the success or failure of electrification. The automotive industry quickly realised that designing and building electric vehicles (EVs) is merely one step in meeting the global sustainability targets set out by governing bodies.

As long-standing original equipment manufacturers (OEMs) charge into the EV industry by any means necessary, and more pure-play companies enter the market, further considerations must be given to the source of energy and how their vehicles will be charged and the equally important questions, "Are consumers ready?"

The questions resulting from the EV discussion provoke further studies into the surrounding factors that play into the industry's success and consultancies like PwC are looking to share their insights to support manufacturers in the latest stages of development. Addressing the needs of consumers is paramount to ensure the success of the industry.
A faster rate of EV adoption is required
The PwC eReadiness study presents valuable data on e-mobility business across seven European markets. The report marks the third edition of the study and relates wholly to the consumer demand for EVs.

The report summarises the following points:
Over half of consumers are looking to buy an EV within the next two years
The majority of the current electric vehicle owners are high earning, middle-aged males that live in cities
Dreamers and lovers of technology and luxury are the most interested in EVs
More women than men are sceptical of buy an EV
10% of EV sales are carried out online
EV buying decisions will be driven by price and convenience
Charging infrastructure is also in demand as part of the shift to EVs
More used EVs are purchased, typically by lower-income individuals
The current EV consumer base
It's safe to say that sentiments towards EV adoption are changing. While this doesn't immediately translate into sales, this is likely to have a huge impact on the success of the industry leading up to 2025. Until prices are reduced, automotive companies will continue to sell their vehicles to the high-income consumers that will feed their profit margins. These individuals also expect their cars to come with relevant charging solutions as part of an electrification bundle.

Generally, the percentage growth in EV ownership is doubling year-on-year, with the average owner earning around €74,000 per annum, living in urban areas and travelling around 29 kilometres daily. This begs the questions as to how the industry will provide solutions to accommodate the drivers that live in rural settings, particularly as accessibility becomes an issue for many rural residents.
Conversion through EV dealerships
Online means of vehicle shopping are growing in significance, but it seems that consumers are still keen to see their potential electric vehicle purchase in the showroom. Still around 82% of current EV drivers bought theirs from a dealership and many still demand a test drive from the dealership.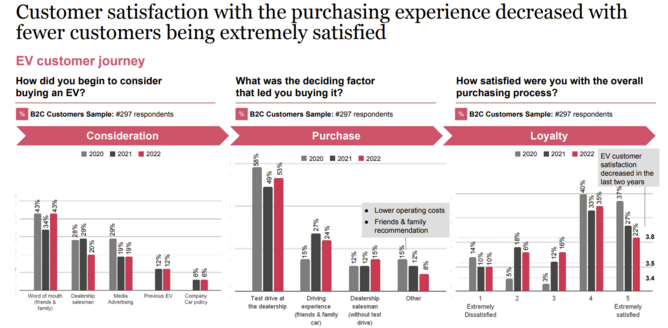 The digital approach to customer service has grown on some customers over the past few years, but generally consumers are becoming more dissatisfied with the process they must undergo to buy a new EV.
Also, EV charging infrastructure is influencing whether consumers buy electric vehicles. It's one of the major contributing factors to how both businesses and individuals use their cars and varies from city applications to rural settings. The survey suggests that more EV drivers want their car to come with an at-home charging packaging to alleviate concerns of running out of battery.