Volvo Trucks closes the inaugural EV Magazine LIVE event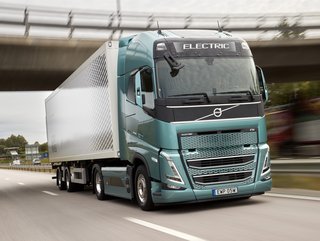 Martin Kearns, Head of E-mobility at Volvo Trucks, joins EV Magazine LIVE for the closing session to talk about the future electrification of trucking
Featured in the January issue of EV Magazine as one of the Top 10 companies electrifying commercial vehicles, Volvo Trucks is set to close the show at EV Magazine LIVE.

The company's Head of E-mobility UK&I, Martin Kearns will share his final thoughts and delve into what looks to be the future for the trucking industry.

Volvo Trucks is evangelising the shift to electric trucks—which plays a huge role in setting decarbonisation efforts in motion. The organisation has 95 years of experience in automotive and its sister business, Volvo Cars, is praised for its safety and reliability as well as its ability to leverage digital technologies, artificial intelligence and the latest electrification hardware to make its EVs smarter than ever before.

But transition is a completely different story for fleet operators. This year, more adoption is on the agenda and Volvo Trucks is keen to share insights to set the expectations of electric transport. 'Taking the leap' to electric is something that Volvo Trucks supports its clients with via a four-step process, providing:
A single point of contact for all e-mobility efforts
Flexible trucking with Volvo-approved financing
Guidance to the best charging setup for the business
Route-planning advice and uptime commitment
Fleet management via digital solutions—also enabling environmental impact reports
A new year for commercialisation of electric trucks
Impacting supply chains globally, decarbonisation is one of the main focus points for all fleet operators. As a major contributor to global emission, the industry is faced with tough challenges, which, if not assessed properly, could be detrimental to their businesses.
Truckers are divided by the possibilities, of which internal combustion engines (ICEs) will soon be off the cards. Electric propulsion and hydrogen are revolutionising the way manufacturers develop vehicles and present major benefits in terms of acceleration, efficiency (more so in the application of hydrogen technology), but infrastructure is a pain point for supply chain businesses.
Many seem to be holding back on EV adoption due to cost, which is subsequently at odds against sustainability, and it is a factor that can be measured against various aspects of their businesses—from the initial financing of infrastructure and EV purchase or leasing to the anticipation of lost time due to vehicles' lower range.
At EV Magazine LIVE, we hope to probe Kearns on the potential for change and how businesses can expect to evolve over time to meet sustainability demand and legislation.
Tune in this evening to gain exclusive insights for your supply chain businesses from a giant in the trucking industry. In the lead up to this session there will be some great keynote speakers from established businesses, startups, transport authorities, and even motorsport.

Watch EV Magazine LIVE from wherever you are in the world via the Brella networking platform and stay in the loop by subscribing to EV Magazine's monthly publications.