Volvo is a safe, sustainable fleet electrification partner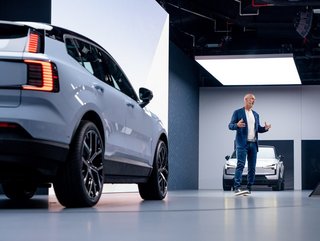 Credit: Volvo Cars | President and CEO Jim Rowan at the launch of the Volvo EX30
Taking a positive stance on decarbonisation and improving safety of mobility, Volvo provides fleet EV solutions to encourage electrification of businesses
Deemed the safest car maker, and with a sustainable outlook on automotive, Volvo Cars has witnessed great excitement around its electric vehicle (EV) portfolio. As a result, the firm was able to unveil some of its most intuitive vehicles yet, leveraging AI to further enhance safety with LiDar, radar, and camera sensors all working together inside each car to read the surrounding environment.
Such an application was delivered to the public eye upon the reveal of the Volvo EX90—an electric SUV with technology built in to further enhance the driving experience. Later the company unveiled its EX30 model with similar, great technology and safety in a small SUV model.
But with more demand on the fleet side, Volvo is now offering companies fully electric fleets as many begin to think about switching to all-electric. As a car maker looking to deliver on its fully electric goal by 2030 and carbon-neutrality by 2040, Volvo could be the sustainability partner of the fleet segment.
Safety is part of Volvo's automotive heritage
The major selling point for Volvo is safety—the protection of company assets enabling a better overall return on investment through minimal maintenance and better collision avoidance.
The company's cutting-edge sensor technology and strategic layout within its vehicles leverages a whole host of data points that allow unrivalled risk analysis and management with help from AI. This should prove to many businesses a valuable trait as they look to spend less time on company cars and focus more on their commercial activities. Buying into Volvo's reliability will put them on the path to zero collisions.
From a cost perspective, with any EV, maintenance is less frequent and software updates are provided over-the-air (OTA), which puts customers in the best position to avoid stressing about downtime due to company fleet vehicle issues. The key point to be understood when choosing Volvo as a fleet partner is that its unrivalled technology will improve time on the road and increase flexibility.
Volvo also has to hand studies dating back to the 1970s, which assess more than 43,000 vehicles in real-life accidents, and approximately 72,000 people, providing data that informs the developments made to its electrified range of cars.
From a regulatory perspective, it's uncertain whether autonomy will qualify for lower insurance bands, but this is perhaps something that would benefit companies—although merely speculation and is also in the hands of governments.
******
Further insights can be found on our website or click here to receive our newsletter with a constant feed of new stories every week.
EV Magazine is dedicated to creating a global community of businesses, experts, and EV enthusiasts with comprehensive insights into automotive and the surrounding sectors.
For more EV insights check out the latest edition of EV Magazine and be sure to follow us on LinkedIn & Twitter.
You may also be interested in Sustainability Magazine and Energy Digital Magazine.
Please also check out our upcoming event - Sustainability LIVE in London on September 6-7 2023.
BizClik is a global provider of B2B digital media platforms that cover Executive Communities for CEOs, CFOs, CMOs, Sustainability Leaders, Procurement & Supply Chain Leaders, Technology & AI Leaders, Cyber Leaders, FinTech & InsurTech Leaders as well as covering industries such as Manufacturing, Mining, Energy, EV, Construction, Healthcare + Food & Drink.
BizClik – based in London, Dubai, and New York – offers services such as Content Creation, Advertising & Sponsorship Solutions, Webinars & Events.