Tesla prepares for logistics shake-up with electric HGV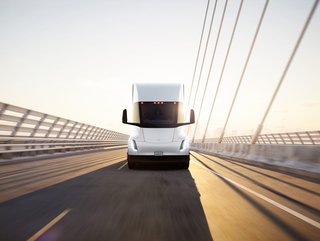 Tesla sets a date for its electric HGV to roll off the production line, which will shake up the supply chain and introduce reliable electric vehicles
The latest news from the pure-play electric vehicle (EV) giant is that its Semi electric heavy-goods vehicle (HGV) is coming to fruition. After much speculation and many disruptions to its battery supply chain, the automotive firm is now powering towards its debuts in the heavy goods industry.

But what exactly does the Tesla Semi show when it comes to HGVs and efficiency?

To provide some background to this, here is the announcement from Elon Musk, the company's CEO, around four years ago.

Tesla Semi helps logistics leverage the power of EVs
In 2017, the Tesla Semi was announced and provided some impressive performance figures in comparison to the conventional diesel HGV. The truck is expected to achieve 0-60mph with or without an empty trailer in 5 seconds, much faster than its fossil-fuel-powered counterpart, which can only achieve it in 15 seconds.
The Semi is also mastering efficiency with a full gross weight acceleration of 20 seconds, a significantly faster acceleration once again. Travelling up a 5% gradient, the Tesla Semi can travel 20mph faster than diesel trucks, ultimately making it a more efficient choice in terms of optimising time and cost.
Why is the Semi EV not on the market?
The simple answer to explain the truck's slow entry into the supply chain is disruption. As we've seen, the EV battery market is growing, but there is still much higher demand to fulfil in order to meet the needs of the rapidly expanding industry. Much like many other EV firms, Tesla felt the constraints of battery manufacturing, therefore holding up the production line.
However, the industry is growing fast and Tesla retains its high-level position while the likes of BYD and other EV manufacturers come chasing. But, for other firms to challenge the company, they would have to match, if not exceed, some characteristics of the Semi that change the electrification game.
According to Musk, the Semi can achieve a maximum 500-mile range and is charged from zero to 400 miles in around 30 minutes. With a typical payload, the truck is said to achieve around 200 to 300 miles per charge. These extremely capable trucks will provide huge efficiency benefits to whoever owns them, providing they have the infrastructure to keep them on the road.
With plans to reap the sustainable and economic benefits of the Semi, PepsiCo placed the first order for 100 trucks and Tesla raises everyone's hopes for the EV as the delivery date is set for the 1st December.