Nikola generates hydrogen and BEV interest in logistics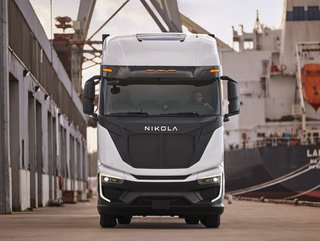 Credit: Nikola Motors | The Tre FCEV ready at the port to transport goods
With a recent announcement of a FCEV and BEV milestone, Michael Lohscheller comments on the growth of its truck order for logistics and supply chain firms
Nikola Corporation, a forerunner in zero-emissions transport, surpassed 200 sales orders in August 2023 for its Class 8 hydrogen fuel-cell electric trucks. These orders, from 18 end customers, are mainly direct agreements between fleets and dealers. Production is ongoing at Nikola's Coolidge, Ariz. facility, with deliveries slated for later this year, post a demonstration programme.
Michael Lohscheller, Nikola's President & CEO, highlighted the industry's shift towards sustainable transport, expressing pride in reaching the 202-sales milestone. Nikola's hydrogen truck boasts up to a 500-mile range and a 20-minute refuel time, making it versatile for various haulage applications.
"This remarkable demand for our hydrogen fuel cell electric truck confirms the industry's trend toward sustainable transportation solutions," says Lohscheller.
"We are proud to achieve this milestone of 202 sales orders together with our dealer network, as we believe it demonstrates the level of confidence our customers and stakeholders have in our vision and technology, as well as our HYLA hydrogen supply and infrastructure solutions. This milestone is a testament to the hard work and dedication of the entire Nikola team."

Financial incentives played a significant role in these sales. The California Air Resources Board's HVIP program accelerated most sales, granting Nikola customers between US$240,000 and US$288,000 per truck. The Inflation Reduction Act further entitles them to a US$40,000 tax credit.
New Jersey's Zero-Emission Incentive Program offers a US$175,000 voucher per Class 8 vehicle, with bonuses for specific qualifiers.
Lohscheller emphasised the industry's momentum towards zero-emissions, citing the incentives as catalysts. Nikola foresees vast growth in Canada, where incentives reach up to CAD$200,000 for their hydrogen trucks, stackable with other provincial rebates, emphasising the company's commitment to a greener future.
Nikola Corporation's strategy for hydrogen vehicle developing
The company is looking to transport the global transportation industry.
Driven by sustainability within the supply chain industry, the company is built on a major innovation at the heart of it. Alongside its fuel-cell endeavours the company set out to deliver a way for logistics businesses to eliminate their exhaust emissions with hydrogen or battery-electric power.
Founded in 2015 in Salt Lake City, Utah, NIkola began its innovative journey in this area, building upon its values of continuous improvement, fast-paced development, and practising safety, quality, and integrity.
In 2023, the company witnessed some pivotal events, resulting in great achievements in alternative energy vehicles.
In July 2023, the company sold 13 zero-emission trucks to the logistics firm JB Hunt Transport Services—one of the largest supply chain organisation in North America
The hydrogen FCEV was named the winner of the Sustainable Product of the 2023 Altair Enlighten Award in August
In May 2023, AJR Trucking announced an order of 50 Nikola Tre FCEVs and WattEV agreed the acquisition of 14 Tre battery-electric vehicles (BEVs)
In March 2023, Klean Industries partnered with Nikola to convert its trucking fleet to its Tre FCEVs and co-develop green energy projects
The company is certainly strengthening its approach to decarbonised logistics, which shows from its event throughout 2023. By adopting both BEV technologies as well as hydrogen, the company appeals to a number of larger haulage organisations looking to become more sustainable without compromising on things like range and operational efficiency.
******
Further insights can be found on our website or click here to receive our newsletter with a constant feed of new stories every week.
EV Magazine is dedicated to creating a global community of businesses, experts, and EV enthusiasts with comprehensive insights into automotive and the surrounding sectors.
For more EV insights check out the latest edition of EV Magazine and be sure to follow us on LinkedIn & Twitter.
You may also be interested in Sustainability Magazine and Energy Digital Magazine.
Please also check out our upcoming event - Sustainability LIVE in London on September 6-7 2023.
BizClik is a global provider of B2B digital media platforms that cover Executive Communities for CEOs, CFOs, CMOs, Sustainability Leaders, Procurement & Supply Chain Leaders, Technology & AI Leaders, Cyber Leaders, FinTech & InsurTech Leaders as well as covering industries such as Manufacturing, Mining, Energy, EV, Construction, Healthcare + Food & Drink.
BizClik – based in London, Dubai, and New York – offers services such as Content Creation, Advertising & Sponsorship Solutions, Webinars & Events.