Top 10 companies electrifying commercial vehicles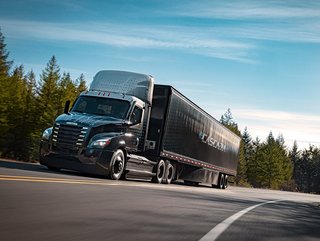 From HGVs to last-mile logistics, these 10 companies are electrifying commercial vehicles and bringing groundbreaking solutions to the global supply chain
As leaders in their respective areas of the commercial sector—or even new, innovative entrants to the market—these 10 companies are sharing their expertise to decarbonise the logistics industry.
We provide a comprehensive list of companies electrifying commercial vehicles to cater for small, medium, and large-goods' vehicles that bring fully-electric transport one step closer to reality, while shifting away from internal combustion engines (ICEs) in the supply chain.
1. Volvo Group
A multi-industry player
As a major stakeholder in the three-way partnership with Daimler AG and Traton Group, Volvo Group has already developed electrified utility vehicles for the North American market. Known as the VNR Electric, its truck is intended for regional use.
Since 2019, the truck has been tested on the roads, but now businesses are securing their orders. One of them is Maersk, which placed an order for 110 VNR Electric trucks in March 2022 to add to its previous order of 16.
2. Daimler AG
Developing a long-term partnership
As the owner of Mercedes-Benz, Daimler AG has a critical role to play, becoming part of a trio of businesses venturing into a joint electrification partnership.
The German automaker is one of the largest truck manufacturers in the world and, in 2018, it announced its all-electric 18-wheeler, called the Freightliner eCascadia. The truck was designed to support port operations and regional haulage via a battery range of 250 miles. The company also distributes another truck, called the Freightliner eM2 106, which achieves a 230-mile range and is used for local distribution networks.
3. Traton Group
Electrifying a new world
Traton Group owns Scania, MAN, Volkswagen (VW) Truck, Navistar, and Rio. While partnering with Daimler AG and Volvo Group for truck electrification, the company is undergoing analysis of its brands, notably MAN, to determine the most cost-effective way to electrify the logistics' industry.
The company is also in the process of developing an electric VW Truck, which is to take point in South America to carry out short-haul delivery journeys.
4. BYD
Bringing a competitive streak
Competing with Tesla in the passenger EV market, BYD is also a solid contributor of commercials as it develops electrified buses and trucks for industry. In 2020, the company had its sights set on the short-haul goods industry, but since then, offerings have expanded to incorporate trucks, public and school buses, and the latest research and development project, the Skyrail.
5. Nikola Motor
Pure electric is not enough
Pioneering zero-emission trucking solutions, Nikola Motor occupies the heavy-goods vehicle market, but is disrupting the conventional methods of innovation. Leveraging both battery-electric technology and fuel-cell, the company delivers solely sustainable solutions, inclusive of its TRE BEV battery-electric vehicle (BEV) and its two fuel-cell-driven semi trucks, the TWO FCEV and the TRE FCEV—the latter available in late 2023.
Nikola Motor is committed to pushing the boundaries and taking risks while showing the value of simplicity. The company believes that both fully-electric and hydrogen fuel-cell vehicles are both integral to the decarbonisation process.
6. Tesla
Unrivalled electric performance
Of course, the company pioneering a bold, powerful, and efficient electric HGV is Tesla. In 2022, the company released the Tesla Semi with a 500-mile range and charging speed of 400 miles in 30 minutes.
The long-awaited Semi was subject to similar issues faced by automakers as supply chain disruptions hindered the production progress. Nevertheless, as one of the original players in the EV game, Tesla expects to dominate the market through unwavering commitment and a final product performance that rivals the ICE industry.
7. DAF Trucks
An OG, reliable brand
Well-known for its reliability in the ICE industry, DAF Trucks is a leader in the trucking world and has big plans to electrify its range as a solution for the future. The company is moving forward with a new vehicle range, which will comprise solely of all-electric vehicles.
The DAF LF Electric is capable of driving 280km/charge—subject to driver behaviour, outdoor temperature, load, and topography, of course—with a 282KW/h battery that can be charged from 20% to 80% in around 6.5 hours (or faster if using a rapid charger).
8. Rivian
Electrifying the last-mile fleet
The pure-play manufacturer is placed in a unique position as an all-electric business that sells vehicles in the commercial and consumer vehicle brackets. While we all know of the Rivian R1T and R1S models, it's the company's delivery van that was snatched up by leading online retailer Amazon.
Rivian has developed EVs, software, and charging infrastructure to ensure customers the best possible operating experience and cost-effective BEV adoption. The aim of this Rivian Ecosystem is to scale electrification efforts in a simpler way, which is all encompassed in its Rivian FleetOS offering—a proprietary platform that maximises efficiency, integration, and safety.
9. Ford Motor Group
A popular choice for commercial
The company that pioneered cost-effective mass production, Ford Motor Group made an announcement in 2022 for much-needed innovation in battery capacity. The firm expects its EV compound annual growth rate to reach 90% through 2026—which is more than double the predicted growth in the global industry.
As one of the top choices for commercial vehicles, Ford has seen significant growth of its EV range as the Mustang Mach-E continues to fulfil a high demand. When it comes to electric delivery vans, the E-Transit was received by its first customer in early-2022, and was the best-selling option of the year, reaching 4,387 sales through September-2022.
10. General Motors
Cloud-enabled logistics for leaders
While passenger EVs are critical to General Motors' (GM's) transition to zero-emissions, the company also owns BrightDrop, a business that delivers innovative, safe, and efficient logistics solutions.
The company has already shared its expertise with big names in the industry, particularly in the US, as it supplies its BrightDrop Zevo 400s and 600s to Walmart and FedEx for first and last-mile deliveries, leveraging cloud-based software. The EV was first released at the Consumer Electronics Show in Las Vegas in January 2021 and has since received US$800mn investment from GM.