Charging & Infrastructure
ZOOZ Power brings EV charging stations from Israel to Europe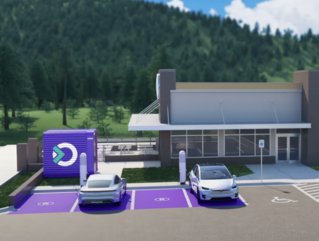 The Israeli charging developer, ZOOZ Power has developed a fast-charging solution and secured commercial deals in Israel, the US and European markets
If fast-charging was accessible globally, would there be anything standing in the way of electric vehicle (EV) adoption?

More options are becoming available and companies are also looking to tap into the European and US markets to supply two of the largest economies with charging solutions. ZOOZ Power—named after the Hebrew word 'Zooz', meaning 'Move'—is doing just that as it shares its 15-minute fast-charging solution with the world.

Previously named Chakratec, the company developed a box-like solution, housing its innovative flywheel charging solution, consisting of eight steel wheels. It's already clear that transporting these machines would be a significant challenge on its own, as each of the steel wheels weighs around half a tonne.

The wheels spin at 17,000 revolutions per minute to convert electrical energy into kinetic energy. When a vehicle is plugged into the charger, the wheels slow down, converting that energy back into electricity and directed into the vehicles at a high intensity, achieving a charge time of around 15 minutes.
ZOOZ Power provides a sustainable breakthrough
Aside from its immense capability to charge cars at speed, Zooz intends to reduce the impact of charging, by using physics instead of chemistry. Limiting the use of chemicals for charging will reduce the industry's demand for lithium mineral production. While lithium-ion batteries weaken over time, the kinetic energy system continues to produce energy at the same level.
Since 2018, ZOOZ has piloted the system at Vienna's airport to prove the operation of the concept. As the US passed its Bipartisan Infrastructure Law this year, Boaz Weizer, CEO of ZOOZ Power, is confident in the company's ability to provide four ultra-fast charging stations for every 50 miles of US interstate roads by 2026.
"At some point, we will have too many [EVs] on the road and lots of annoyed drivers who will tell their friends and families not to buy EVs [as it's so difficult to charge them]," says Weizer.
"Early EV owners had their own parking space and could charge from their home. Today, if there are 15 EV owners in a residential block with EV chargers, the first five will be able to charge overnight, but the sixth might find his or her vehicle uncharged in the morning."
According to Weizer, this makes the case for Zooz's fast-charging solution as an option that is not only more sustainable, but provides longevity and the ability to charge more cars over its 15-year lifespan.