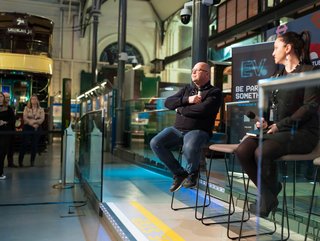 Filippo Perini, Chief Design Officer, AEHRA, on stage at EV Magazine LIVE.
EV Magazine LIVE hosted a variety of experienced professionals and the insights they provided represent a diverse range of electrification challenges
Over a month on from the inaugural EV Magazine LIVE, we're taking a look at some of the insights we gained from the evening event. Leaders from industries spanning charging, design, payments, and public transport brought their knowledge to the floor and shared with a small group of industry professionals at the London Transport Museum—and a wider pool, virtually, from across the globe.
10. Electric trucks are coming
Joining us at EV Magazine LIVE, Martin Kearns, Head of E-mobility at Volvo Trucks, talks of the increasing innovation around electrified fleet vehicles. In particular, batteries development is playing a crucial role in accelerating the number of commercial-scale EVs adopted across the globe.

9. Current electrification is a result of years of policymaking
Look back five to ten years ago and policymakers would have begun their efforts to bring EVs to the wider populations. Understanding the industry at that stage was key, but what we are seeing today is the result of years of work behind the scenes. This is something for both organisations and consumers to consider when assessing the current state of electrification.
8. More EV chargers are needed
It goes without saying, but Sam Clarke, Chief Vehicle Officer at GRIDSERVE Sustainable Energy Limited, really drives this into perspective as he explains his perspective of the UK market. The projected demand imposed on the charging sector suggests that 300,00 chargers is a minimum for the UK EV sector, and is a critical point in enabling freedom of mobility in a sustainable way.

7. EVs still receive a lot of negativity
At EV Magazine, we get caught up in the news around industry innovation, new technologies, and the sustainable impacts that all-electric motors can have, but according to Clarke, 'EV bashing' still takes place—from the public, and political and press figures. In order to overcome these thoughts, charging availability is one of the key enablers of successful mindset shifts.
6. Payment is a key component of EV charging
As mentioned by Sara Sloman, Chief Strategy Officer at PayThru, the payment system imposed on EV drivers is critical for not only increasing the appeal of electric cars, but also ensuring that customers get the most out of their charging experience. The goal for organisations like PayThru is to leverage smart charging capabilities and really double down on customer satisfaction.

5. There are more ways to travel
Covered extensively in our panel discussion, it's clear that alternative modes of transport are providing benefits to commuters in cities and have a profound impact on the level of emissions produced in major international hubs. The likes of shared mobility and the e-scooter revolution are two of these that will coincide with electrified public transport and privately owned cars. It's safe to say that no one solution can do everything, which is why cities like London—driven by the work of the team at Transport for London—leverage an ecosystem of sustainable solutions.
4. EV is bringing together a new community of leaders
We saw this at EV Magazine LIVE as more leaders evangelise the importance of EV adoption, but the reality lies in the news as advocates shift from internal combustion engine (ICE) vehicle makers to industries that support the growth in the battery-electric vehicle (BEV) movement.
An example can be seen at AEHRA, which marks a collaboration between some of the most prestigious innovators in the Italian automotive industry. Many motorsport applications also echo into the industry as leaders and advisors migrate from motorsport.
3. Fleet transport is crucial for sustainable cities
Fleet electrification is the focus point for this year and will continue to evolve beyond. Much of the emphasis is on the commercial sector, but public transport transformation efforts can already be seen and will continue to appear. But this relies on the benefits. Although public transport is a more sustainable form of mobility, solutions must work for the public.
2. Electric motorsport can drive ocean awareness
EVs can do more than simply decarbonise our roads. The entire marketing campaign around the marine industry and the soon-to-launch motorsport, E1 Series powerboat racing, is creating a lot of awareness of ocean concerns and the impacts that boats have on our shorelines—not just from the emissions they produce.
Leveraging hydrofoil technology and electric propulsion, and a unique marketing approach, E1 Series' commitment lies with the coastline and enabling more spectators to see their impact on the planet.
1. Electrification reinvents automotive design principles
As humbly explained by Filippo Perini, Chief Design Officer at AEHRA—the headline sponsor of the event, the method of design and build is changing. The unique approach taken by the ultra-premium car maker leverages the best and most sustainable components and processes from the Italian automotive industry and applies it to a revolutionary design with the electric motor at the heart of its composition.
Setting the score for innovation, carbon-fibre composition makes for a lightweight, circular, and modular component that will streamline its manufacturing process.