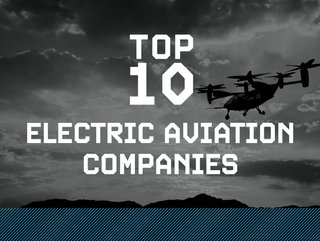 Top 10 Electric Aviation Companies
EV Magazine ranks some of the companies developing sustainable, electric planes by revenue — these innovative companies include Boeing, RTX and Airbus
The electrification of aircraft can be traced back to the 19th century. In France, 1883, the Tissandier brothers flew the first electric powered balloon — but it wasn't powerful enough to make headway against the wind. The PKZ-1 helicopter was developed in Hungary in 1916, featuring an electric motor that developed 140 watts of power at 6,000 rpm — but that had to be connected to the ground.
Over a century later, electrifying aircraft is viewed by many as a possible solution to sustainable travel in the skies.
In 2019, commercial airlines burned just under 100 billion gallons of fuel, resulting in about 2.5% of carbon dioxide produced by all of humankind. By 2050, given the expected growth of global air travel, commercial aviation is expected to contribute just under 20% of greenhouse gas emissions.
Developments in sustainable aircraft come in the form of Sustainable Aviation Fuel (SAF), hydrogen fuelled aircraft and electric planes.
We've taken a look at some of the top companies around the world — ranked by revenue — who are developing these technologies, and the aviation solutions for a more sustainable tomorrow.

Revenue US$464.89m
CEO: JoeBen Bevirt

Joby Aviation was founded by CEO JoeBen Bevirt in 2009, before partnering with Nasa in 2012 on several groundbreaking electric flight projects, including the X-57 and LEAPTech. In 2020, Joby became the first eVTOL company to receive airworthiness approval from the U.S Air Force – breaking ground in electrical aviation developments and developing operational capabilities in advance of commercial launch is smoother with the opportunity to fly aircraft on-base and have access to government testing facilities.

Revenue US$545.3m
CEO: Tian Yu
Founded in Hong Kong in 1999, Yuneec is a world leader in electronic aviation. From the first commercially successful ready-to-fly fixed wing RC aeroplane, to ground-breaking electric aircraft and next-generation aerial video quadcopters, Yuneec has pushed the limits above and beyond in electric aviation for over 15 years.

Revenue US$6.421bn
CEO: David Zapico
American appliances, electrical, and electronics manufacturing company Ametek Inc. was founded in 1930 and is now headquartered in Berwyn, PA and operational in 30 countries across the globe. It provides global solutions in six key areas:
Aerospace and defence platforms
Automation and manufacturing
Tests, measurements and detection
Medical and healthcare fields
Energy, production and supply
Research and development
Revenue US$19.75bn
CEO: Patrice Caine
Headquartered just outside Paris, Thales is a global technology leader, specialising in defence and security, digital identity, aerospace, space, and transportation. In Aerospace, governments, airports, airlines, pilots, crews and passengers rely on Thales to make flight safer, easier and more efficient.
The company designs, delivers and supports the systems that keep the skies running — from air traffic management, training and simulation solutions, nose-to-tail aircraft connectivity and in-flight services.

Revenue US$24.96bn
CEO: Olivier Andriès
Paris-based aviation and aerospace component manufacturing company Safran is present in 27 countries, and founded in 2005. The company's expertise lies in five key areas — aircraft equipment, aircraft interiors, aircraft propulsion, defence and space.
Safran is developing electric propulsion technologies for numerous platform types — some of which herald a whole new approach to civil aviation. Using the same technological building blocks, the company is positioned to address wide ranging needs and markets as electrification develops.

Revenue: US$27.4bn
CEO: Charles Woodburn
British multinational aerospace, arms, and security company BAE Systems is one of the largest defence contractors in the world. It is bringing together decades of demonstrated cross domain expertise in integrated flight controls and propulsion solutions to enable the next generation of aircraft — electric and hybrid. The offerings are modular, scalable, and adaptable for applications in a variety of markets, including regional and business jets, urban air mobility, and air transport.

Revenue: US$36.41bn
CEO: Vimal Kapur​​​​​​​
Honeywell International Inc. is a multinational conglomerate corporation mainly operating in aerospace, building technologies, performance materials and technologies, and safety and productivity solutions.
The company has more than 50 years of experience in propulsion and power controls, and is actively working on electric flight technologies including large unmanned aerial systems, urban air mobility and people transport, and light drones.

Revenue: US$65.29bn
CEO: Guillaume Faury
Airbus is a global pioneer in the aerospace industry, operating in the commercial aircraft, helicopters, defence and space sectors, headquartered in Leiden, Netherlands with management conducted from Toulouse, France. Founded in 1970, it is the world's second largest manufacturer of commercial aircraft after Boeing.
Part of Airbus's sustainability strategy lies in hydrogen, as well as boosting SAF use to reduce emissions.
"The bottlenecks are no longer in the technology of the plane," says Guillaume Faury, who has been Airbus CEO since 2019. Previously, he was CEO of Airbus Helicopters, and President of Airbus' commercial aircraft business, a role he had held since February 2018.
Additionally, Faury is a member of the board of directors of AXA SA and is the President of both the Groupement des Industries Françaises de l'Aéronautique et du Spatial (GIFAS), the French aerospace industries association and the Aerospace, Security and Defence Industries Association of Europe (ASD).
"We strongly believe that we will be ready by 2035 with a hydrogen plane. The technology will be ready."

Revenue: US$67.1bn
CEO: Gregory Hayes
11 million air travel passengers are supported by RTX aviation systems every day, with 1 billion gallons of fuel saved by the company's increasingly efficient aircraft engines.
The US based company has three key areas of operation:
Sustainable, more connected flight — designing and building innovative solutions that are transforming aerospace
Smarter defense systems — enhancing total defense capabilities for allied nations around the globe.
Intelligent space technologies — innovating from the ocean's depths to the farthest reaches of space.
The company is currently working with NASA in developing its electric flight technology.

Revenue: US$73.6bn
CEO: Dave Calhoun
US based aviation and aerospace component manufacturing company Boeing was founded in 1916 and is now headquartered in Arlington, VA. The company develops, manufactures and services commercial aeroplanes, defence products and space systems for customers in more than 150 countries whilst being committed to innovating for the future, leading with sustainability, and cultivating a culture based on the company's core values of safety, quality and integrity.
Christopher Raymond, Boeing's Chief Sustainability Officer, has been recognised as one of the Top 100 leaders in Sustainability by Sustainability Magazine, and a top e-mobility leader by EV Magazine. Responsible for advancing Boeing's approach on aerospace sustainability priorities, stakeholder-oriented engagement; reporting; and company performance, Raymond drives shared awareness of sustainability trends, opportunities and risks. He reports to the CEO and to the Governance and Public Policy committee of the Board.
The company's sustainability focus is outlined in its sustainability report, which details its interest in SAF, as well as its electric plane endeavours.
"Boeing continues to invest and make progress on our journey to achieve a more sustainable aerospace future," says Raymond. "As we enter a new era of sustainable aerospace, we are committed to documenting our progress and outlining our path forward with transparency so our industry can progress, together."
*********************************************
EV Magazine is dedicated to creating a global community of businesses, experts, and EV enthusiasts with comprehensive insights into automotive and the surrounding sectors.
For more EV insights check out the latest edition of EV Magazine and be sure to follow us on LinkedIn & Twitter.
You may also be interested in Sustainability Magazine and Energy Digital Magazine.
*********************************************
Net Zero LIVE will be hosted live from the QEII Centre, London on the 6th and 7th of March, and streamed globally via our virtual event platform Brella. Net Zero LIVE London will feature four LIVE themes, incorporating Sustainability LIVE, EV LIVE, Scope 3 LIVE, and Energy LIVE to deliver a holistic conference and exhibition experience with opportunities to connect with like-minded peers and actively contribute to crafting a sustainable future. Following Net Zero LIVE, viewers can also sign up for Sustainability LIVE Dubai and Singapore.
Sign up to the The Global Sustainability & ESG Awards 2024, coming to London on the 11th September 2024.
*********************************************
BizClik is a global provider of B2B digital media platforms that cover Executive Communities for CEOs, CFOs, CMOs, Sustainability Leaders, Procurement & Supply Chain Leaders, Technology & AI Leaders, Cyber Leaders, FinTech & InsurTech Leaders as well as covering industries such as Manufacturing, Mining, Energy, EV, Construction, Healthcare + Food & Drink.
BizClik – based in London, Dubai, and New York – offers services such as Content Creation, Advertising & Sponsorship Solutions, Webinars & Events.