ZF's new technology shows promise for compact EV powertrains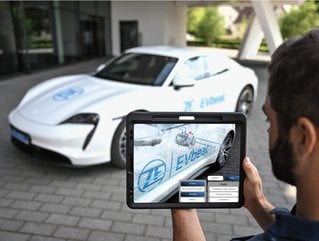 ZF is discovering more about thermal management and creating more compact technologies with new levels of efficiency
Developing compact systems for drivetrain efficiency, ZF's concept car is packed with software-driven thermal management and small-footprint technologies
The aim of electrification is to have as low an impact on the planet as possible. Although a switch of powertrain and change of mindset around mobility is important, it's not enough. Automotive manufacturers are becoming more considerate about how they approach electric vehicle (EV) development with a focus on battery-first rather than engine-first design.
One of the key elements that battery technologies allow is compactness. By reducing the footprint of the power system, ideally businesses will produce smaller cars, but the issue currently seen in the industry is that of weight and the number of lithium-ion cells required to make battery power worthwhile.
Now, looking at the development stages of today, we turn to ZF, an engineering firm linking its innovations to the broader scope of EVs that will allow car makers to build using more compact systems.
At its Global Technology Day in Friedrichshafen, ZF presented a concept of its solution for compact, low-weight, high-efficiency propulsion. While this isn't a battery solution, it will be combined with some of the latest technologies, but its 'EVbeat' concept vehicle hosts its most efficient electric driveline yet.
"Sustainable mobility is at the core of our corporate strategy," says Stephan von Schuckmann, member of the ZF Board of Management responsible for electrified driveline systems.

"Based on an extremely efficient production vehicle, we are showing the potential that future electric drive components offer when we combine them into an even more efficient overall system."

This holistic, cloud-enabled system includes an ultra-compact driveline, 74 kilograms in weight, with a torque density of 70 Nm/kg. At colder temperatures, the driveline increases its range up to a third in comparison to current technologies on the market.

"Our goal was to make this drive as compact and lightweight as possible while maintaining high driving dynamics and increasing efficiency in real-world operation," says Dr Otmar Scharrer, Head of Development for Electric Driveline Systems at ZF.

"In terms of torque density, we are at the top of the podium when we compare ourselves with e-drives for passenger cars currently available on the market. At the same time, we paid strong attention to the sustainability aspect during development." The electric motor works without heavy rare earth elements and the thermal management system does not use fluorine-based refrigerant. The reduced number of components and the overall reduction in system weight – by one third for the electric drive and thermal management system – make a double contribution to greater sustainability, both in production and operation.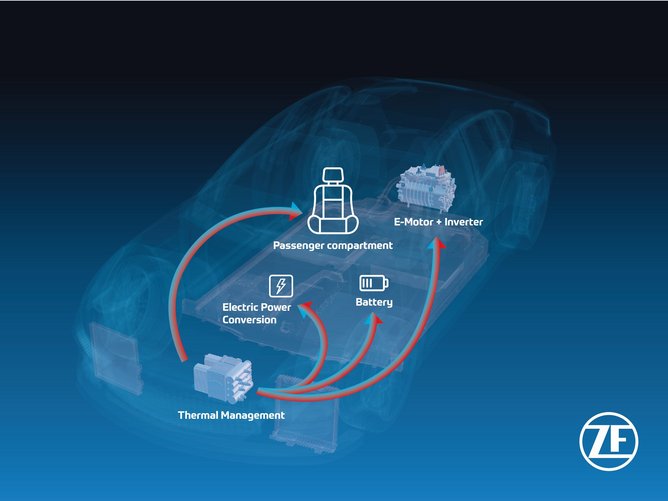 ZF is delivering EV efficiency in through better thermal management systems and delivering sustainable power with lightweight solutions
The EVSys800: Showcasing ultra-compact EV drive system
The EVSys800 is a compact and lightweight modular 800-volt drive system for electric vehicles. It includes silicon carbide power electronics, an electric motor, and a reduction gearbox. Despite its small size, the EVSys800 delivers impressive performance with a maximum torque of 5,200 Newton metres on the rear axle. Its torque density of 70 Newton metres per kilogram is exceptionally high for road-legal passenger cars. The electric motor provides continuous power of 206 kilowatts and peak power of 275 kilowatts, achieving around 75 percent of its peak power consistently.
Thanks to the compact reduction gearbox and ZF's patented 'Braided Winding' technology, the drive system saves 50 millimetres in width and enables space-saving, coaxial installation on the drive axle. With a weight of 74 kilograms, the EVSys800 is approximately 40 kilograms or one-third lighter compared to ZF's latest 800-volt series drive, contributing significantly to the weight reduction of the concept vehicle.
The electric motor incorporates a new cooling concept and winding technology. Efficient cooling is achieved by allowing oil to flow directly around the copper rods, dissipating heat generated during operation and enhancing performance without increasing weight or installation space. The use of heavy rare earth elements is eliminated, promoting a more sustainable production process. ZF's 'Braided Winding' technology, an advancement of wave winding, reduces installation space by ten percent, with the winding head being up to 50 percent smaller than conventional methods, resulting in copper savings of around ten percent.
The inverter of the EVSys800 has undergone a significant redesign, with improvements made to electromagnetic compatibility, power modules, and capacitors. These enhancements reduce installation space, weight, and enhance sustainability.
A new coaxial reduction gearbox, integrated with two planetary gear sets, efficiently transmits the drive forces of the electric motor while performing the differential function. This design reduces weight and installation space compared to conventional offset concepts without compromising efficiency, noise, or vibration. When combined with 'Braided Winding' technology, the drive system can be made significantly shorter, allowing installation in various vehicle spaces.
Controlling temperature for EV powertrain efficiency
Winter energy consumption is another area for consideration when it comes to EVs, which is where thermal management comes into play. ZF has developed a thermal management system (TherMaS) for its EVbeat concept, which uses a central unit and intelligent software to control all related processes.
Keeping with the development theme, the system significantly reduces size and weight when putting it up against the available solutions on the market today.
This with the company's cloud-based powertrain software embedded into the system is what drives efficiency through much smaller components. The software is responsible for optimising the range of the drive system, by controlling thermal management, particularly at high temperatures.