Will Toyota survive and electrify following CEO departure?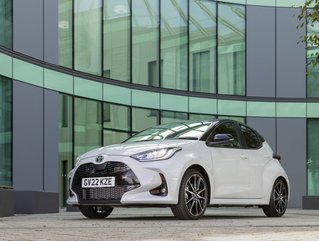 Toyota's CEO is stepping done to allow the team to accelerate its electrification efforts, but questions remain as to whether the auto giant will catch up
The news of the departing CEO of Toyota creates a new era of change for the business. Akio Toyoda holds the company dear to his heart as the great grandson of Sakichi Toyoda—a Japanese inventor said to have catalysed the Japanese industrial revolution—and grandson of Toyota's founder, Kiichiro Toyoda.
The company announced Toyoda's departure was announced this January, marking a significant barrier lifted, allowing the company to push forward with electrification, in which it is severely lagging behind.
This news came around the time of the e-mobility awards, held at the British Motor Museum, UK, where much of the conversation was centred around convincing governments and businesses that electric vehicles (EVs), and other forms of sustainable transport, are absolutely necessary for global decarbonisation.
This is something that Toyota has been addressing through hybrid vehicle technology, but is yet to fully leverage battery-electric power.

It has only recently been announced that Toyota will undergo a major surge to electrify its vehicles as the firm plans to develop its own in-house-built vehicle platform. The question to follow here is whether the kaizen principles of the organisation will allow it to claw back the time it has lost.
Toyota's heritage revolutionised automotive
The company's current CEO—due to step down in April—admitted his reluctance to shift the business to all-electric vehicle production as a lover of automotive and the heritage that comes with petrol and diesel cars. As a result, Toyoda, in a nobel fashion, states the new leader and team will do what he couldn't do for the organisation.
"I now need to take a step back in order to let young people enter the new chapter of what the future of mobility should be like," Toyoda says.
And we get it, Toyoda is one of many people that oppose the idea of electrification because the internal combustion engine (ICE) holds sentimental value among many drivers and organisations. As rightly noted by Quentin Wilson, Founder of FairCharge, the automotive industry holds over 100 years of industrial heritage, but there is also very little time to shift to cleaner cars and operating models.
Help is coming, but will Toyota bounce back?
The technology is more available now than when Tesla made its first production cars, but there are still many challenges that lie ahead, of which Toyota is seemingly behind the curve. Upon the switch to a new CEO, Toyota will also begin efforts to develop its own platform for a lineup of EVs that will completely alter the company's trajectory—putting it on track with the rest of the industry. It seems the company is starting from the beginning while other global automakers are working long ahead alongside pure-play manufacturers that have taken a more proactive approach in electrification.
In October 2022, Toyota's global battery-electric vehicle (BEV) sales had just reached around 14,000. BYD had manufactured 911,140 EVs by that time and Tesla 1.31 million.
Companies like Tesla and BYD could make things tricky for Toyota, or will the company lead along their paths, leveraging the hurdles that these organisations have already learned to overcome?