ST Engineering teases pioneering electric defence vehicle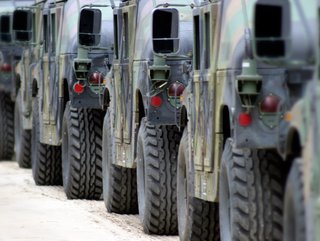 Image of defence vehicles
Supporting innovation within the defence sector resulted in a pioneering hybrid-electric vehicle design and more details are to be revealed this year
Something that is not often considered is the emissions produced by the defence sector, but the industry must not be left out of the electric vehicle (EV) discussion.
ST Engineering revealed a concept vehicle design that could alter the impact of the defence industry. The Singaporean engineering firm applies its technology to a whole host of real-world applications, including global innovations in defence, aerospace, marine, and smart city solutions.
But the company teased one of its latest projects at IDEX 2023, hosted in Abu Dhabi's National Exhibition Centre—a 4x4 defence vehicle leveraging hybrid-electric propulsion. The truck is expected to drive silently for up to 15 km on all-electric power, but is capable of a full hybrid-electric range of up to 780 km (485 miles).

As viewers await more information on the truck, the company's VP and Head of International Business for Land and Defence Systems, Dominic Phoon explained more details will follow at DSEI London in September.
"Our aim is to start out with a higher vehicle and move down from there," Phoon says. "It's much easier to scale down a heavier vehicle design than scale up a light one."
Work began on the hybrid vehicle project around two years ago and was announced to the public at the beginning of 2023.
Building smart cities of the future
Beyond its defence industry endeavours, ST Engineering is heavily involved in shaping the city of the future. Its technologies are incorporated into the infrastructure combined to make cities more intuitive and achieve greater mobility for a variety of people.
Such technologies include those supporting rail and road transport, security infrastructure, environmental, and connectivity. The company is currently backed by more than 800 successful smart city projects across the globe serving more than 150 cities.
Some of the incredible solutions built by the company are designed to encourage urban sustainability, provide connectivity for satellite systems, and support efforts to create a sustainable built environment.
Innovating in aerospace and marine transportation
Understanding the innovation needs of the commercial sector, ST engineering is well-placed for electrification in various industry segments. With shipbuilding and conversion expertise, the company is a world-leading provider of ships and has been a trusted partner within the supply chain for over 50 years.
These efforts also extend to aerospace where the firm builds components and full scale aeroplanes and is responsible for maintaining aviation assets, including the CFM56 Engine, and Boeing and Airbus aircraft.