Moove ventures into the EV ride-hailing sector in the UAE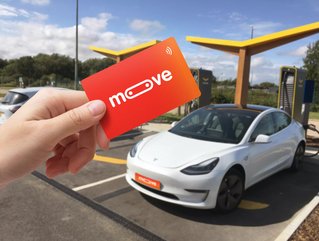 The mobility fintech startup achieves major milestone in its EV financing journey and has secured funds for major global electrification through its app
It's the first company to become a mobility fintech and also supplies many vehicles to Uber in the MENA region. Moove is raising more funds to extend its presence in the industry and scale its business.

A debut sukuk issuance has been arranged by Franklin Templeton Investments (ME) Ltd, which will grant the company US$30mn in funds for its ride-hailing service in the MENA region.
Facilitating a Moove to electrification
Moove was founded as a Nigerian-born business with global prospects by a pair that bring together experience in investment banking and economics.

Ladi Delano and Jide Odunsi are the Co-Founders and Co-CEOs behind the business, which was founded in 2020 to address the electrification challenge faced by more than two million African mobility entrepreneurs, which is the lack of funding in the continent's electric vehicle (EV) adoption.

This problem was originally to be addressed by the company in Lagos, but has since expanded its efforts to encompass that of six cities across Africa.

"This financing is a milestone for Moove—our first sukuk issuance which showcases our growth and sustainability as a global company," says Ladi Delano.

"Equally important is that this furthers our mission to build the biggest EV ride-hailing fleet in the region, to drive forward mobility electrification and enable cities to reach their net-zero targets."

Data suggests that while the MENA region has seen significant growth in comparison to its electrification efforts in 2016, there is still a lot of work to be done to ensure that countries in the region can gain access to e-mobility solutions.

In the United Arab Emirates (UAE), just over 9,000 battery-electric vehicles (BEVs) were sold in 2022, with figures only expected to exceed 30,000 between 2026 and 2027. This is likely due to a lack of charging infrastructure, which, once again, plagues the growth of a country's efforts to adopt electrified vehicles.

Nevertheless, the successful completion of the sukuk will allow Moove to leverage islamic investment to influence the industry in an area where environmental and social investment is paramount. Not only does the sukuk—structured as a sukuk al-istisna—represent interest from privately-owned investors, but also marks the growth potential of Moove itself.

"Franklin Templeton is pleased to lead this innovative Sukuk transaction that simultaneously complements our global sukuk and Shari'ah-compliant private market strategies, while supporting the development of mobility and fintech ecosystems in the UAE initially, followed by more markets in the future," says Mohieddine Kronfol, Chief Investment Officer Global Sukuk and MENA Fixed Income, Franklin Templeton.

"The transaction also further validates the opportunity we have been arguing exists in private credit across the region, combining attractive yields with security and credit control."
Electrification begins with charging infrastructure investment
A big part of this process is to see through the launch of an EV charging app called Moove Charge, which will be launched in London in August 2023. Users of the service will be able to locate and access an entire network of charging stations that will be used specifically by ride-hailing vehicles.

"We wish Moove's management team much success and look forward to seeing their cars on the road, as well as the social and environmental impact their business can have on our region."