Ford to make EVs more affordable with battery development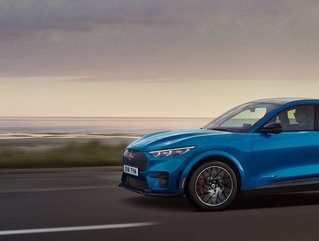 Ford's Mustang Mach-E brings muscle to the electric vehicle world
Utilising more cost-effective materials that are faster to manufacture, Ford plans to make electric vehicles (EVs) more affordable in the United States
Having announced new componentry for its electric vehicle (EV) batteries, Ford is also determined to manufacture its own as it announces Michigan will be the home of its new factory.

The plant is expected to cost around US$3.5mn to build and production of its updated battery product is said to launch in 2026. What makes the new battery different from the standard lithium-ion battery is, not only is it cheaper to build, it makes use of a different cathode material, iron—batteries known as lithium ferrous phosphate (LFP).

The idea of using lithium iron phosphate is an old one, but it seems to be re-entering the market as China's battery share grows—but largely due to the materials achieving an overall 20% cost reduction.

But, as mentioned, Ford is not the first company to bring them back. Tesla already imports LFP battery cells for its Model 3 and other cars.
Ford will also be leveraging technologies from Contemporary Amperex Technology Company Limited (CATL), which will help the company facilitate a large-scale push for use of the new batteries across the US—first expected in its Mach-E in 2023 followed by its F-150 Lightning in 2024.
Battery manufacturing accelerates in the US
Understanding how susceptible the battery manufacturing industry is due to cost and resources implications, brings now surprise that more interest is growth in this space. With EV adoption growing rapidly and more individuals conscious of their cost, it's in the interest of OEMs to actively reduce the prices of their vehicles wherever possible.
The US Federal Government is bucking the trend with a near US$200mn investment announced in October 2022, which was set in motion to help a business called ICL-IP America to build a battery manufacturing plant in Missouri.
As a major contributor to the US automotive industry, Ford expects to drastically increase its output by the end of the year—set to reach a rate of 600,000 EVs per year. The climate-saving target for the long term is set to two million a year by the end of 2026.
From an EV charging perspective, the new Ford battery will be seamlessly compatible with existing infrastructure, allowing drivers to charge with ease and fast-charge as well. From its own data, Ford expects that the Mach-E will continue to be used for short regular trips—as with a lot of cars—therefore focusing its attention on the cost of its vehicles as opposed to the range.
However, the company will have to tackle certain aspects of LFP cells, such as the impacts that weather has on their performance.