Concept Designer Kar Lee on the future of electric bikes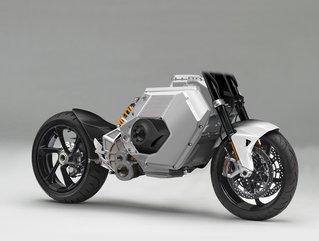 Kar Lee disucsses the future of EV bikes and the progression of their design, as well as his take on new market trends in the EV space
As the UK government sets to ban the sale of all new petrol motorbikes by 2035, specialist motorbike insurer, Bikesure, has teamed up with Kar Lee, to bring an expert Q&A discussing the performance benefits of new technologies, design trends electric models may adopt, and what it could take to convince petrol riders to make the leap to electric.
Specialising in motorcycle concept artistry, Kar Lee has been in the industry for over 25 years and has become a popular name among biking enthusiasts, with an online community of over 111k. Lee has also illustrated his predictions in an eye-catching render, visualising what we can expect from the next 10+ years of motorcycle design.

How would an increased demand for electric motorbikes impact manufacturers' decisions to increase their focus on the sector, create more innovative designs, and/or bring new models to market?
There are actually dozens of smaller electric motorcycle companies around the world making innovative bikes, from the USA to the UK, the drive to create the next generation of more eco-friendly powered motorcycles is well underway. In an effort to stand out it is often these start-ups that are the bravest and the boldest when it comes to making the most unique-looking EV bikes. Swedish firm Cake are building some of the most creative, industrial designs and offering up a small, but the perfectly-formed range of lightweight affordable bikes, while Ultraviolette Automotive in India will offer their premium-looking F77, complete with removable batteries, but at a wallet-friendly price. As for the established larger brands, most are already developing electric bikes.
How do you think motorcycle manufacturers could make electric motorbikes more appealing to consumers?
If looking for mass appeal, make them look like traditional motorcycles! The issue with so many currents, if you excuse the pun, emotos is that they try to reinvent themselves too much. While there is a market for these unique standout machines, the electric bikes that get the most positive public reaction are generally the ones that look like a mildly futuristic spin on an existing ICE design. The Triumph TE-1, Damon Hyperfighter / Hypersport, and Ducati MotoE are two great examples of this – squint and they could easily pass as petrol-powered.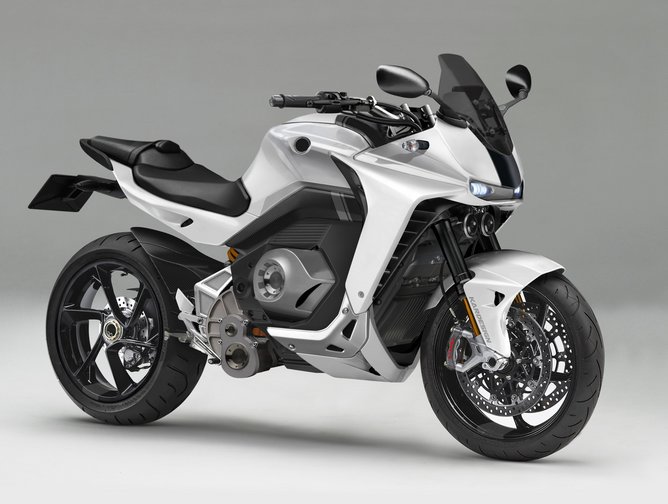 What are your thoughts on the design approach for electric motorbikes? Do you think electric models should replicate the style of their petrol predecessors, or have their own new and innovative aesthetic?
I reckon there's plenty of room in the market for both distinctive, creative design solutions and also more conventional aesthetics. Early electric motorbike designs used existing motorcycle architecture, and some still do it successfully! A frame, either trellis or alloy beam style, connected to a rear swingarm and conventional forks would be the foundation with a huge square battery hanging within that frame. The electric motor would sit behind the battery and drive the rear wheel via a belt or chain.
Those earlier designs varied in just how much they embraced the differences between their ICE (internal combustion engine) counterparts. By their very nature, electric motorcycles don't have noisy, hot exhausts and their powerplants don't need cooling to anywhere near the same extent so less requirement for radiators or cooling fins. While some manufacturers like Zero and Energica lean towards emulating the traditional look of a petrol motorcycle quite successfully, others go further to accentuate their differences. Do they go too far? For volume sales, perhaps.
Motorcyclists tend to be quite conservative with their tastes; for example, conventional telescopic forks aren't actually that efficient, they change the geometry of a bike, flex under braking, and the weight transfer from mid to front is a side effect that can adversely affect handling. All these things the rider has to compensate for or adjust their suspension to suit.
Back in 1993, a system that separated braking with suspension was used on the Yamaha GTS1000 sports tourer and it offered much more stability with its odd-looking front swingarm. The public, however, weren't quite ready for something so unconventional. Together with the higher price of this alien new tech, the GTS bombed in the showroom and Yamaha never spoke of it again.
BMW's popular (and still used) Telelever front suspension addresses the telescopic fork challenge in a different way but uses a system that looks more typical at a glance. It's heavier than a conventional fork set-up so not suitable for all bikes but doesn't visually jar like the GTS1000 front swingarm did to most riders.
The lesson from that? There's a fine line between making something look and work differently, but if it's too unfamiliar prepare for it to be rejected by the public. The GTS1000's suspension wasn't the only factor putting off buyers as the higher purchase price played a part, but looking a little 'weird' was a step too far. So while there's plenty of room to be innovative in electric bike design, veering too far leftfield can cause issues with cultural acceptability.
Which direction do you see the industry taking in terms of design over the next 10-15 years? Do you have any predictions in terms of design, trends, new materials, and direction?
There are high-end electric bikes coming to market that celebrates looking different – Arc Vector and the Curtiss One spring to mind – but these are not meant to be high-volume products. The big sales are coming from the smaller bikes designed for city use, and while the bulk of these isn't meant to push boundaries in terms of aesthetics, they do utilise a freshness in their design. Removable batteries in smaller bikes, built-in immobilisers, regen modes, and other features that are more commonplace in the car sector are trickling down.
As for predictions and trends, in terms of aesthetics I see emotos beginning to look more like traditional ICE machines and, certainly on the more premium machines such as the Damon Hypersport, the batteries themselves moving away from looking like huge bricks and becoming more integrated. They would instead create more molded shapes that can use their battery housing as a stressed frame member, thus saving weight, though this brings about its own challenges, namely battery replacement being a much bigger task.
Ducati is pioneering a carbon fibre battery case for the 2023 MotoE race series that they are supplying the bikes for, and we can expect more use of carbon and aluminum in the future due to their light weight and strength. Over the next 10-15 years we can also expect e-bikes to become safer, feature more rider aids, go further, and be more compact as the battery technology evolves. Currently, a high-powered ICE bike uses twin discs up front for braking, perhaps this could be reduced to one to save unsprung weight and utilise more regenerative engine braking instead?
Yamaha has just announced they will be using plant-derived cellulose nanofiber (CNF) reinforced resin for their marine products as an initiative toward reducing CO2 emissions and the Company's environmental footprint. Importantly, they're also considering using this material across their motorcycle products in the future.
What changes are we already starting to see in terms of electric motorbike design within the market currently, how has this progressed in recent years, and are there any key trends you are aware of?
It's clear that designers are getting to grips with the nuances of electric bike design. They don't need to look crazily different from ICE bikes for the sake of it, and they don't need to conform to the same rules (the motor and battery can be placed anywhere), but they don't want to look too unconventional either for fear of putting off buyers. Integrating the battery into the design of a bike is already becoming more seamless and that's a trend that will continue. Ultimately, the market will decide what it wants and doesn't want.
How cyclical are trends in motorbikes? How often do new designs/styles break through to the mainstream? What are the most common examples of this in recent years?
Where to start? There are many, many examples of trends over the years, some of which stayed. Trends can be driven by outside forces, including legislation or racing. In the late 70s and 80s, 2-stroke machines were in abundance, however by the late 80s emissions laws put an end to those large-capacity machines.
A decade later, there followed a high-speed race from the main Japanese manufacturers to build the fastest, most powerful bikes. The crown was passed from Kawasaki's 1990 ZZ-R1100 to the 1996 Honda Blackbird, to be snatched by the Suzuki Hayabusa in 1999. In 2015, Kawasaki took the title of most powerful production bike back with the supercharged H2, which last year fell short of Euro 5 emissions regs and was discontinued.
This year's fad? With the rise in energy costs and global interest rates, producing bikes that can meet these and future regulations in a cost-efficient manner means that many costly-to-produce, mid-capacity, inline fours are being replaced by parallel twins with 270-degree cranks for more charismatic power delivery. This year alone, Suzuki and Honda have just announced four new machines featuring such an engine configuration. Aprilia already has their parallel twin 660 range, designed to steal sales from the long-running and best-selling Yamaha MT-07 – the 270-degree parallel twin that kicked off this trend in 2015.
Other trends throughout the years include 16" front wheels, anti-dive forks, rising-rate rear suspension, ABS, storage compartments in the tail unit, under seat exhausts, turbochargers, radially-mounted brake calipers, and winglets… the list is extensive. As for cyclical, some do come back – sports tourers, once prevalent in the 90s and noughties, made way for adventure tourers, though it seems they're making a mild comeback with the likes of the Kawasaki H2 SX and Suzuki GSX-S 1000GT.
As for design styles, 90s curves and large body panels have given way to edgier lines and a more minimalist approach. Bikes themselves are smaller and more compact and are visually lighter as well as physically so.