Zenobē battery project reaches pivotal electrification phase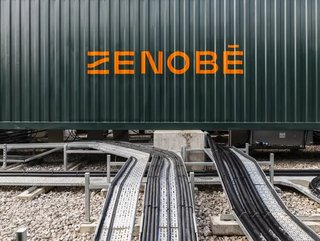 The new Zenobē 300MW battery project in Blackhillock closed Phase 1 and will support electrification with cutting-edge technology for energy storage
A specialist in electric vehicle (EV) fleet operations and battery storage, Zenobē reached a pivotal milestone for its Blackhillock project, closing his financing stage and delving into the construction of a 300MW battery site in Scotland.
The location is between Aberdeen and Inverness and will be the first project in the world to deliver, what it calls, Stability Services using a transmission-connected battery.
The project marks a major step in the UK's electrification as well as a prime example of battery technology usage as a renewable energy triumph with potential global implications.
"Our battery at Blackhillock will use cutting edge technology to provide essential services needed to lower consumer bills and bring more renewable energy onto the grid," says James Basden, Co-Founder and Director of Zenobē.

"By partnering with experts at Wärtsilä, H&MV, SMA Solar Technology AG and GE Grid Solutions, we look forward to bringing this project to fruition and accelerating the UK towards a zero-carbon energy system.

"This is one of several major battery flexibility projects we're working on in Scotland at the moment, shaping the future for how grid scale battery projects will work on grids across the globe."
Energy storage plays a critical role in a sustainable energy supply
With the country, like many others, transitioning to EVs, this project will provide significant emissions reductions in the supply chain, and the energy storage facility is at the heart of it—enabling suppliers more capacity to build clean energy infrastructure.

Once built, the Blackhillock site will provide a capability of 300 MW/600 MWh and the first full suite of active and reactive power services to be witnessed globally. In line with the sustainable credentials of the project, Zenobē has been selective of its suppliers who will provide sustainable services and leading expertise. SMA Solar Technology AG will provide Grid Forming Solutions, battery inverters and medium voltage power stations with Wärtsilä—a leading innovator within the sustainable energy space.

"We are proud to contribute to Zenobē's unique lighthouse project. This power plant not only solves the time-shift between demand and renewable generation, but also contributes to system stability," says Jason Devonshire-Mander, Head of Sales & Services at SMA Solar UK.

"The SMA Grid Forming Solution stabilises frequency and voltage instantly and inherently. These kinds of stability plants are the missing link to 100% renewables and value stacking reveals this cost effective solution compared to traditional technologies. We are looking forward to providing our system know-how and dedication to this project and the ones to come."

The Vice President, Energy Storage & Optimisation at Wärtsilä, Andy Tang also commented:

"Wärtsilä is proud to deliver this pioneering energy storage project alongside Zenobē. This is a first-of-its-kind project that will help balance the UK grid as it targets 100% renewable energy generation.

'Energy storage is playing a critical role in delivering a stable supply of electricity during the global transition to renewable energy. Alongside our partners and customers, Wärtsilä is leading the charge to a clean energy future."
Why is energy storage so critical for EV adoption?
While consumers are more conscious of climate change, the cost aspect still remains a high impact point for potential EV drivers. With energy prices rising and a recession looming, fewer people are likely to take the risk of switching to an EV at a time where charging in public areas is more costly.

With more localised sustainability infrastructure, the UK can adopt more effective energy solutions and power the nation with clean energy with the view of making the country more sustainable and bringing down the cost of EVs.