Why should EV enthusiasts attend Sustainability LIVE London?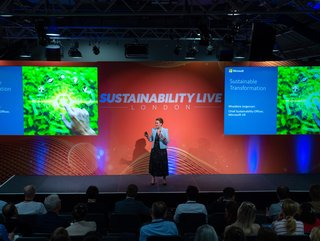 Musidora Jorgensen from Microsoft presented at Sustainability LIVE London in 2022
Sustainability LIVE London is the corporate conference of the year and e-mobility joins the conversation alongside net zero, ESG, renewable energy and DEI
Although we see electrification as a topic for discussion across multiple organisations—whether that means adapting to an entire vehicle product line or shifting a business to an electric vehicle (EV) fleet—it's very much nestled under the sustainability umbrella.
Having recognised the growing market for EVs through Sustainability Magazine and the surrounding infrastructure changes required to make it happen, EV Magazine was born to share insights from the industry and highlight e-mobility as a crucial conversation among both businesses and consumers.
Now, electrification will become a key component of the Sustainability LIVE London conference, which will be hosted by BizClik at the Business Design Centre, London—where a global audience can either attend in person or tune in online from across the globe to hear from industry leading experts.

As the topic of e-mobility expanded massively, EV Magazine hosted its inaugural event at the London Transport Museum earlier this year, but now it's time to embed the community in that of sustainability. We want viewers to get excited about the future and relieve scepticism within industry and their consumer base, by uncovering new and exciting updates from the likes of some great minds in e-mobility.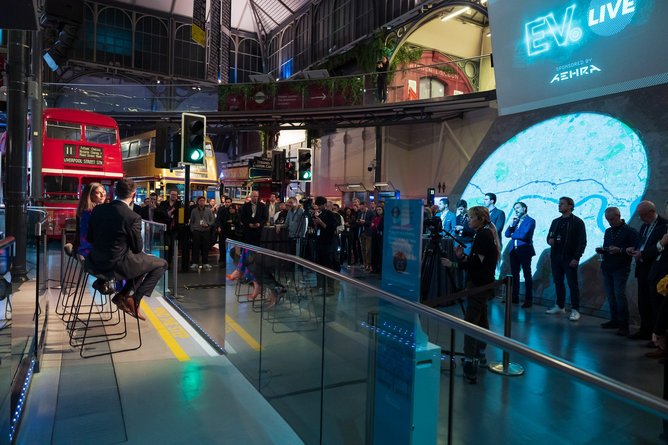 Sara Sloman from PayThru and Alex Gilbert from TfL teamed up to discuss e-mobility at the inaugural EV Magazine LIVE
EV content to expect at Sustainability LIVE London
A host to a global business audience, Sustainability LIVE London will provide a comprehensive lineup of topics, speakers, and discussions around some of the most pressing matter, such as net-zero emissions, environmental; social; and governance (ESG), renewable energy, corporate social responsibility (CSR), diversity; equity; and inclusion (DEI), and of course e-mobility.
Sessions to look out for include:
Day 1: The Sustainable Transport Forum: EV & Mobility
Time - 12:45 PM - 1:30 PM
Date - Wednesday 6th of September
Location - Stage 2
Speakers:
This panel on EVs explores the transformative potential of EVs in revolutionising the transportation sector. EVs represent a promising technology to reduce greenhouse gas emissions, improve air quality, and build more sustainable and resilient economies.
The discussion will delve into the latest innovations, trends, and challenges in the EV industry, including the role of EVs in decarbonisation efforts, the state of EV infrastructure, and the impact of EVs on different industries.
Day 2: Pod Point Mobility Keynote
Time - 12:00 PM - 12:20 PM
Date - Thursday 7th of September
Location - Stage 1
Keynote Speaker - James McKemey, Head of Policy and Public Affairs at Pod Point
McKemey leads environmental and sustainability assessment for the chargepoint provider, and specialises in BREEAM community assessment and private asset management. Compatible with the majority of mainstream brands, the company offers a number of charging solutions fit for applications at home, public places, and the workplace, making it a versatile partner for businesses and an influential force in e-mobility.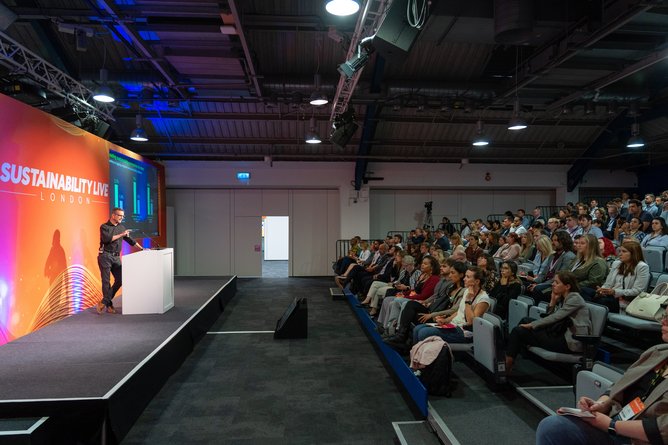 Steve Smith held a keynote on the electrical revolution at Sustainability LIVE London 2022
Join EV Magazine at the sustainability conference of the year
It's more than just a show. While we love for guests to attend for the keynotes, panels, and fireside chats, we'll be looking to hear more from the audience about their electrification journeys, the partnerships formed, and the next steps for industries when it comes to decarbonising transportation.
To see the full list of speakers, click here.
To get your free pass, click here.
To check out our previous event content, head over to the video section of EV Magazine.
Join us and many other sustainability advocates at the event from the 6th to 7th September 2023, and have your questions answered about EVs, e-mobility, and sustainable transformation.

Looking to share your innovations with a sustainability community?
Become a sponsor of Sustainability LIVE London where you can engage with an active audience through branded opportunities, workshops, and speaker experiences to lead the conversation on the future of sustainability.
Click here, to find out more about becoming a sponsor for Sustainability LIVE London.​​​​​​​

******
EV Magazine is dedicated to creating a global community of businesses, experts, and EV enthusiasts with comprehensive insights into automotive and the surrounding sectors.
For more EV insights check out the latest edition of EV Magazine and be sure to follow us on LinkedIn & Twitter.
You may also be interested in Sustainability Magazine and Energy Digital Magazine.
Please also check out our upcoming event - Sustainability LIVE in London on September 6-7 2023.
BizClik is a global provider of B2B digital media platforms that cover Executive Communities for CEOs, CFOs, CMOs, Sustainability Leaders, Procurement & Supply Chain Leaders, Technology & AI Leaders, Cyber Leaders, FinTech & InsurTech Leaders as well as covering industries such as Manufacturing, Mining, Energy, EV, Construction, Healthcare + Food & Drink.
BizClik – based in London, Dubai, and New York – offers services such as Content Creation, Advertising & Sponsorship Solutions, Webinars & Events.