Electrifying historical industries and reshaping commerce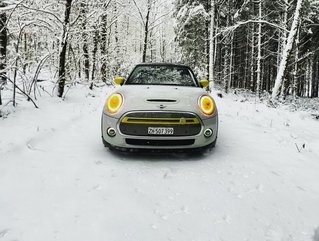 Electrification is the biggest change of the century and it proves beneficial for transforming agriculture, classic cars, and infrastructure to include EVs
Electrification is the biggest change of the century and it proves beneficial for transforming agriculture, classic cars, and infrastructure to include EVs
The year is drawing even closer to its end. Nevertheless we seem to be gaining more and more electric vehicle (EV) insights while also counting down the days to an exciting new year for e-mobility—driven by technology and innovation.
Throughout the week more lessons have been learned around batteries and how different materials can be leveraged to make them, as well as advice on how to care for EVs in the winter time and decarbonise industries with the latest zero-emission vehicles.
As not only the demand for food rises, but also emissions reduction, agriculture must also undergo a significant shift to evolve from its heavily fossil-fuel-powered state. As farming is also a significant contributor to emissions, and a supply chain that requires minimal tampering, electric vehicle (EV) solutions are paramount in the industry.
The tractor company Monarch Tractor recognises both the need for change and to do so in the least disruptive way possible, which is why it brings to the fore an all-electric tractor with autonomous capabilities.
The colder climates can have a significant effect on efficiency, meaning less miles per gallon (MPGs) and a shorter range per charge.
Thankfully, the US charging solution provider, ChargePoint has provided some useful tips that we believe can be used by drivers and businesses in general as they plan to keep things moving throughout these uncertain weather conditions.
In years to come, lithium-ion batteries could potentially be known as the legacy solution. Why? This is likely a result of solid-state batteries (SSBs), which scientists look to leverage in order to ensure a constant supply of batteries to the growing EV market.
Scientists at Yokohama National University are optimistic of their breakthrough in SSB technology, which could shape the industry of the future. Not only will this make cars more sustainable, but safer as SSBs don't use harmful, toxic chemicals to carry current in a battery.
In a bold new era for motorsport, Extreme E is breaching into the unknown in many ways. First of all: electrification. The very existence of the landmark racing championship is a result of the need for emissions' reduction. The second is the landscape. Despite the track laid out in front of them, Extreme E drivers never know what might be hidden under bumps in the track or waiting for them over the crest of the world's largest dunes.
Laia Sanz and Carlos Sainz, both Extreme E drivers, have an immense desire for overcoming the largest hurdles and leading change, and are here to share their experiences with Extreme E. Here is what was discussed with Laia Sanz for the Extreme E feature in the December issue of EV Magazine.
The fortunate, and quite frankly exciting, thing about technology is that it holds the ability to bring everyone up to speed. If adopted and used correctly, it can save lives in hospitals, create efficiencies in business, and even optimise yields of farmers globally.
Apply technology to the automotive sector and you open up a whole new world of possibilities—as showcased by the aforementioned Nevera. This is where we think Everrati Automotive Limited will come in.