BMW launches its pilot fleet of hydrogen-powered vehicles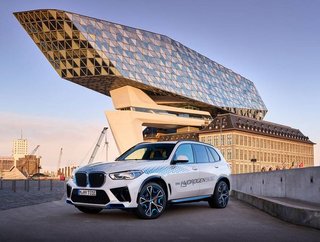 Credit: BMW Group | The BMW iX5 Hydrogen model ready for road testing
Oliver Zipse, Chairman of the Board of Management at BMW reveals its hydrogen endeavours with the first fleet vehicles joining the roads for testing
Is hydrogen a viable option for zero-emission transport?
While it may look this way from the tailpipe, there are a number of factors to be considered in developing an automotive supply chain of hydrogen-powered cars.
Firstly, emissions. Consumers are becoming aware of the fact that not all alternative methods of vehicle transport provoke instantaneous elimination of emissions for their supply chains. This is in fact the long-term task of many stakeholders to ensure that the energy powering electric vehicles (EVs), and indeed the hydrogen fueling cars, is sourced with zero impact on the environment also.
With that in mind, the hydrogen car space still shows promise and exciting new innovations like the recent one from BMW Group, represent a further shift in the paradigm as the automotive sector embraces a whole host of ideas to decarbonise.
The company is now driving a hydrogen-powered SUV on the roads thanks to its behind-the-scenes innovation triumphs taking place over recent years. It seems that, while electric is a crucial driver of its automotive products, hydrogen is also a desirable form for the company as it advanced hydrogen fuel-cell technology for emissions-free mobility similar to how we already interact with petrol- and diesel-fueled vehicles.
"Hydrogen is a versatile energy source that has a key role to play in the energy transition process and therefore in climate protection. After all, it is one of the most efficient ways of storing and transporting renewable energies. We should use this potential to also accelerate the transformation of the mobility sector," says the company's Chairman of the Board of Management, Oliver Zipse.
The recently launched operational model, the BMW iX5 Hydrogen showcases just how this type of fuel can provide the rapid fuelling capabilities appreciated by internal combustion vehicle (ICV) drivers, and also retain the range capabilities of cars at the same time.
The BMW iX5 Hydrogen is manufactured at the pilot plant located within the Munich Research and Innovation Centre, abbreviated as FIZ. This facility accommodates approximately 900 staff members, engaged in various domains including body fabrication, assembly, model engineering, concept vehicle construction, and additive manufacturing.
Their collective efforts guarantee the preparedness of both the product and the manufacturing procedure for upcoming mass production. Collaborating closely, experts in hydrogen technology, vehicle development, and initial assembly of new models are synergizing to seamlessly incorporate the pioneering drive and energy storage technology within the BMW iX5 Hydrogen.
What about hydrogen vehicle infrastructure?
We're sure that BMW doesn't expect to have all the answers to hydrogen power at this stage, but there are further considerations to be made as the industry dabbles in alternative fuelling as opposed to battery-electric propulsion.
BMW sees great potential in this, providing that hydrogen can be produced sustainably—with zero Scope 1, 2 and 3 emissions—and supplied globally through secure and efficient channels.
One of the major challenges for the industry is figuring out how to distribute hydrogen nationally and internationally, which proves complex within designated pipelines. Further work is to be done to establish the most suitable forms of transportation for hydrogen products, which would be required at a scale similar to that of fossil fuels today.
******
Further insights can be found on our website or click here to receive our newsletter with a constant feed of new stories every week.
EV Magazine is dedicated to creating a global community of businesses, experts, and EV enthusiasts with comprehensive insights into automotive and the surrounding sectors.
For more EV insights check out the latest edition of EV Magazine and be sure to follow us on LinkedIn & Twitter.
You may also be interested in Sustainability Magazine and Energy Digital Magazine.
Please also check out our upcoming event - Sustainability LIVE in London on September 6-7 2023.
BizClik is a global provider of B2B digital media platforms that cover Executive Communities for CEOs, CFOs, CMOs, Sustainability Leaders, Procurement & Supply Chain Leaders, Technology & AI Leaders, Cyber Leaders, FinTech & InsurTech Leaders as well as covering industries such as Manufacturing, Mining, Energy, EV, Construction, Healthcare + Food & Drink.
BizClik – based in London, Dubai, and New York – offers services such as Content Creation, Advertising & Sponsorship Solutions, Webinars & Events.