Bentley Motors manages its own sustainability with solar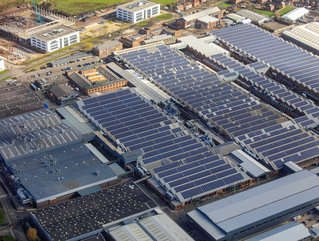 3ti is leading the solar energy installation for Bentley Motors to decarbonise its electric vehicle production
Working with the leading solar provider, 3ti, Bentley Motors' Director of Production Planning, Sebastian Benndorf comments on its sustainability project
The beginning of the latest solar installation at Bentley Motors' carbon-neutral facility in Crewe marks a significant milestone for both energy and automotive.

Bentley Motors has begun the installation of a new carbon-neutral facility in Crewe, UK, which will play a major role in its ability to decarbonise its overall automotive manufacturing processes.

3ti, the leading solar provider in the UK, will oversee the installation of a rooftop-mounted solar array spanning ten buildings, with a capacity of 2.6 MWp. This announcement aligns with Bentley's "Beyond 100" strategy, aiming to achieve carbon neutrality by 2030. It also coincides with the 10th anniversary of the initial installation of solar panels at the Pym's Lane site.

"Bentley is an exemplar, pursuing bold end-to-end carbon neutrality targets and investing in clean, renewable solar energy. It long ago recognised the substantial contribution that solar can make now and into the future, and this latest installation signals Bentley's commitment to achieving its sustainability goals," says Andrew Troop, Sales Director at 3ti.

"Alongside Bentley, we are now seeing organisations from all industries moving to renewables and investing in our three technology ("3t") infrastructure to deliver a more sustainable, secure and cost-effective future. Any organisation with large car parks or rooftops has a potential power station that can be harnessed with our solar, battery and EV charging solutions."

Providing the expertise and knowledge of sustainable solar power installations, 3ti develops a number of solutions with one of its most crucial being solar-powered car parks. By integrating local electrical infrastructure with solar-powered battery energy storage systems (BESS)—as well as EV charging facilities—3ti is creating innovative ways to build infrastructure for energy sequestration.
Taking sustainability into Bentley's own hands
The solar provider has been working closely with Bentley for over five years, previously installing a solar car park consisting of 10,000 panels at the factory in 2018. In December 2022, they introduced a groundbreaking invention called "Papilio3" to Bentley. Papilio3 is a portable solar car park and electric vehicle (EV) charging hub, constructed from a recycled shipping container. It offers solar-powered EV charging for up to 12 vehicles simultaneously at different power levels, ranging from 7 kW to 22 kW. Bentley's Papilio3 provides sustainable EV charging to both staff and visitors, completely free of charge.

Earlier this year, Bentley approached 3ti to manage the next phase of their sustainability journey, which involves adding new rooftop-mounted solar panels to their century-old factory. 3ti will oversee the installation process across various rooftop structures, leveraging their expertise in this area.

Once operational in November 2023, the new solar arrays will generate more than two megawatts of energy at the site. This will increase the total capacity of the 60,000 m2 of panels to over 10 MW, providing renewable energy that can power up to 75% of Bentley's daytime electricity needs. Consequently, this substantial increase in renewable energy capacity will result in an annual reduction of approximately 407,477 tonnes of equivalent CO2 emissions.

Also commenting on the project is Sebastian Benndorf, Director of Production Planning at Bentley Motors, who says: "The exciting addition of further solar panels at our Crewe headquarters supports Bentley's ongoing commitment to its Beyond100 strategy to ensure the highest levels of luxury sustainable mobility. It is part of a vision to transform a 103-year-old luxury car company into a new, sustainable role model for the entire automotive industry."