Sono Motors solar systems reduces fuel reliance of buses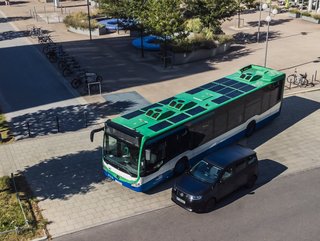 Reducing fuel consumption is still a major step in the direction of sustainability and the EV developer, Sono Motors, is providing a solar kit for buses
A fuel-powered bus that also uses solar power to operate could (and should) be classified as a hybrid-electric vehicle (HEV). Sono Motors is the creator of an innovative electric vehicle (EV) that leverages solar power as part of its charging capability.

The long-term goal of the business is to leverage solar power to charge multiple vehicle formats, including cars, vans, caddies, and, as appeared in its latest release, buses.

While its latest project with ÖPNV-Service applies to fuel-powered buses, it showcases the capabilities of its solar bus kit, which could be applied to further vehicles in the e-mobility industry.
Agreement to electrify buses with the Solar Bus Kit
The company's signed a letter of intent as they begin steps to formalise a supply contract that will see buses retrofitted with technology that uses solar power. The companies will work together on the installation, after-sales service and logistical challenges, which will first take place in Europe. ÖPNV holds extensive experience as a service provider to public transport organisations and carries out 4,000 vehicle developments every year.
"While the transition of public transportation towards a zero-emission future will still take a few years, the Solar Bus Kit is a solution that enables an immediate response to the new emission regulations, like the Euro 7 standard, and increasing energy prices," says Laurin Hahn, Co-Founder and CEO of Sono Motors.
"To meet the needs of the industry and help our bus operators to cut costs and emissions throughout their fleets, we were looking for a partner who can support us with implementing our Solar Bus Kit."
The Solar Bus Kit is optimised for installation and operation across common bus platforms, such as the Mercedes-Benz Citaro and MAN Lion City, which are used in European markets. The subsidiary systems of buses—heating, ventilation and air conditioning—could be partially powered by renewable energy technology. This also saves costs in terms of fueling and lowers each vehicle's carbon emissions, saving up to 1,500 of diesel per bus each year, as well as four tonnes of CO2 emissions.
"We intend to enter into a cooperation with ÖPNV to provide fast installation and maintenance for our national and international customers while meeting our quality standards," says Lars Löhle, Head of Product Sono Solar at Sono Motors.