Exclusive Video: Filippo Perini, Europe & the EV transition
Kickstarting the debut EV Magazine LIVE, Filippo Perini, Chief Design Officer at AEHRA took to the stage to discuss Europe and the EV transition
EV Magazine, the ultimate digital guide to the future of electric vehicles launched its debut LIVE programme at the London Transport Museum in February 2023.
Attended both in person and virtually, EV Magazine LIVE: The Future of EV reached a global audience of enthusiasts.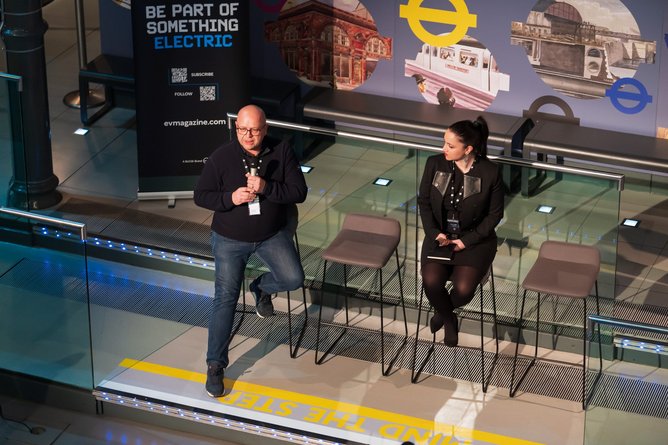 EV launches its LIVE event with AEHRA's Filippo Peri kickstarting the event
Europe and the EV Transition
Openng the debut event, Filippo Perini, Chief Design Officer at AEHRA took to the stage to showcase the company's first ever electric vehicle and outline the CEO's vision to change the way that people see electrification.
Perini begins his keynote by asking a simple question: "Who here is driving an electric vehicle today?" With 50% rasing their hands, Perini envision that in the next two to three years there will be many more.
"It's a new age and a new era," said Perini who explained that the combination of these two phrases is what forms the brand name AEHRA.
By education, Perini is a mechanical engineer, but following his passion to design cars led him to AEHRA. "I am a lucky guy, I have worked for many famous brands, that are very supportive and full of heritage. Now I am working for a startup. I was asked by the owner to translate my passion to electric cars."
Showcasing his latest design, Perini explained that "the car is full of innovation, we are driving our design around a platform that is innovative, very short front and rear overhang, and long wheelbase. This allowed us to design a monobody car that is roomy inside, but that looks very dynamic and has a lot of sensuality."
Perini also discussed the company's partnerships with innovative companies with the technology to develop carbon fibre and composite materials, as well as its efforts to drive a more circular economy by making cars with recycled materials.
To watch any of our other speakers from EV Magazine LIVE, click here.

To find out more about upcoming EV Magazine events, click here.

To find out more about electric vehicles, visit EV Magazine.​​​​​​​
To take a look at our previous events, click here.