Why was Oshkosh chosen as an electric vehicle manufacturer?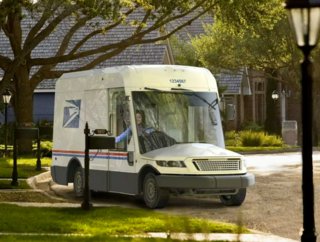 Oshkosh Defense is a military vehicle manufacturer at heart, but was chosen to deliver EVs to the US Postal Service, a switch up from petrol vehicles
Logistics is looking to decarbonise and one of the best actions last-mile delivery companies can take is to switch to electric vehicles (EVs). The purchase of electric delivery vans is a general trend right now, which is shown by the roll out of the Rivian delivery van at Amazon, and now the US Postal Service (USPS) is looking for more to add to its electrified logistics lineup.

The first order of electric last-mile logistics vans was placed in March 2022 and recently (August 2022) the company announced a new order to further electrify its fleet. The USPS is currently following the trends to modernise its fleet and EVs make a viable option for deliveries.

Featuring technical expertise from Oshkosh Defense
The vehicle is designed for safety both inside and out, featuring:
A 360-degree camera
Telematics capability
An automatic electric parking brake
Cab access through the cargo area
Blind spot and collision warnings
The electrification of the USPS fleet is a necessary process to eliminate the fossil-fuel powered vehicles from operations and target lower emissions. The US Congress has been working to obtain financial consent for electrification, which was driven by 16 US states, four environmental groups and the United Auto Workers.
In March, the USPS set out plans to introduce 10,019 battery-electric delivery vans into its fleet as part of its wider order of 50,000 vehicles valued at around US$2.98bn.
A foothold in US military vehicle manufacturer
Founded in 1917, Oshkosh Corporation designs rugged tactical vehicles for military applications with a team of roughly 5,000, of which many have an ex-military background.
The Wisconsin-based manufacturer is dedicated to protecting the lives of others and, as a tactical vehicle manufacturer, is well placed to develop secure and durable EVs for the USPS. The company continues to adopt the latest defense technologies and advanced systems for its products to sustain best-in-class development of vehicles and mobility solutions.