Volta Trucks builds new partnership for trucks-as-a-service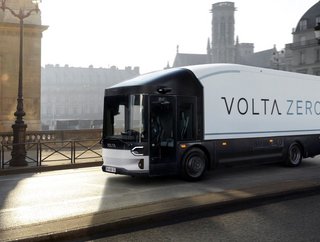 Credit: Volta Trucks | The Volta Zero is the company's answer to electrification and has grown in presence since its incenption.
To deliver its TaaS, Volta Trucks partnered with Spryker to advance its project, which is also supported by services from AWS—Martin Hofmann comments
The electric truck industry hyper scaler, Volta trucks has come a long way from its inception phase, and its days of touring to showcase its groundbreaking vehicle that is now changing the way logistics firms and other corporations are looking at their transport. The company is moving fast and is committed to delivering, what it calls, truck-as-a-service (TaaS), which plays into the idea that vehicles no longer need to be bought as standard or stored in large quantities as stock, and can be maintained by OEMs themselves.
Spryker, a top-tier composable commerce platform specialising in B2B Commerce, Enterprise Marketplaces, and Thing Commerce, has joined forces with Volta Trucks, a leading manufacturer and service provider of all-electric commercial vehicles. Together, they aim to launch a forward-thinking commerce platform.
This initiative will leverage Spryker's Platform as a Service (PaaS) solution, which is built on Amazon Web Services (AWS) and optimised with high-performance AWS Graviton chips and AWS Lambda's serverless technology. Focused solely on zero-emission vehicles, this partnership aims to develop innovative business models that advance a greener, more sustainable future in transportation.
"We are proud to work with Spryker to help drive the success of Volta Trucks' disruptive TaaS model," said Andrea Ketzer, Director of Technology Strategy, Automotive and Manufacturing at AWS.
"Through the synergy of our cloud services, serverless technology, and Spryker's composable commerce platform, we're helping to enable Volta Trucks to achieve maximum flexibility and scalability. Together, we're helping to transform Volta Trucks' business and shaping the future of automotive innovation."
Martin Hofmann, CIO and CTO at Volta Trucks, also says: "As a new innovative disruptor in the commercial vehicle market, we don't have the same challenges which a traditional truck manufacturer might have. We have learned from legacy companies how to do things differently."
"The underlying technology and the way we are able to compose the platform will unconditionally put our customers in the centre and deliver the highest value to their business, as uptime and service of our vehicles is one of our key areas of focus. We chose to partner with Spryker to get ahead of the game and invest in the best possible technology for servicing spare parts for our customers."
The company's strategy hopes to simplify the ownership and usage of electric trucks and, through TaaS, the company will deliver a number of services to clients, but Spryker will help the company gain more flexibility in its approach.
"What Volta Trucks is doing is truly disruptive in the industry and we are proud to support it. Their approach aligns with the global shift towards sustainable mobility, making them a key innovator in the automotive space," said Boris Lokschin, Co-Founder and CEO at Spryker.
"By utilising Spryker's intelligent composable platform, designed specifically for sophisticated transactions, Volta Trucks will be able to create new business models with complex pricing elements quickly, easily, and with a faster return on investment. This collaboration will drive forward innovation that empowers businesses to embrace a more efficient and sustainable future."
What does the TaaS EV project look like?
In the initial stage of the project, Volta Trucks plans to assemble a complete parts catalogue. This rapid development is enabled by the ready-to-use features offered by Spryker. The subsequent phase, the company will deliver further digital evolution, focusing on creating a sophisticated EV ordering system. It will not only introduce new features but also elevate the overall user experience.
More Flexible: Thanks to Spryker's adaptable features, Volta Trucks can quickly change its digital plans as needed.
Easier User Experience: Volta Trucks aims to make their service user-friendly in the auto industry, with Spryker's simple and effective interface helping them do this.
Boosting Automation: Volta Trucks plans to use vehicle data to trigger automatic actions. Spryker helps automate everything from finding problems to setting up repair appointments.
Improving Customer Loyalty: Spryker helps Volta Trucks run a rewarding loyalty program for drivers, making it easier to set up and manage.
"The success of our TaaS offering relies on our ability to pivot quickly based on how our customers interact with our trucks," said Shiv Tailor, VP Enterprise Technology at Volta Trucks.
"Having the flexibility to iterate quickly is invaluable to us. Spryker's composable commerce platform enables us to react and innovate more efficiently."
******
EV Magazine is dedicated to creating a global community of businesses, experts, and EV enthusiasts with comprehensive insights into automotive and the surrounding sectors.
For more EV insights check out the latest edition of EV Magazine and be sure to follow us on LinkedIn & Twitter.
You may also be interested in Sustainability Magazine and Energy Digital Magazine.
*********************************************
BizClik is a global provider of B2B digital media platforms that cover Executive Communities for CEOs, CFOs, CMOs, Sustainability Leaders, Procurement & Supply Chain Leaders, Technology & AI Leaders, Cyber Leaders, FinTech & InsurTech Leaders as well as covering industries such as Manufacturing, Mining, Energy, EV, Construction, Healthcare + Food & Drink.
BizClik – based in London, Dubai, and New York – offers services such as Content Creation, Advertising & Sponsorship Solutions, Webinars & Events.