Tesla is streamlining stages of electric vehicle production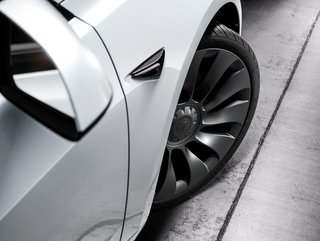 Credit: Tesla | The Model 3 is one of the top-selling EVs again this year alongside its Model Y sister
To reduce costs and create a leaner manufacturing process, Tesla has create pioneering technologies to simply electric vehicle (EV) component production
There's a reason why more and more Tesla vehicles are hitting the roads. Despite mounting pressures from its rivals overseas, Elon Musk's automotive business continues to deliver electric vehicles (EVs) that still grab the attention of consumers.
In July, the company recorded second-quarter figures, showing that its Tesla Model 3 and Model Y remain popular choices with 446,915 deliveries taking place. This is due in part to the company's pioneering manufacturing systems that produce large sub-assemblies of its vehicles to reduce production times and costs of the large chunks.
This process is known as 'gigacasting' and is Tesla's unique process that will continue to reduce costs of its cars—especially when it begins delivering more die-cast components for the underneath of its EVs.
Having used this process for some time, the company recently revealed a further reduction in time as it looks to deliver one component that combines the functions of around 400 pieces that would otherwise be individually fitted.

Last year, Tesla released a great visual of its Giga Berlin factory, which shows some of the technology used in making its EVs.

Less pieces means more efficient EV production
This ethos is something that we've already seen applied to other vehicle designs. Earlier this year, the ultra-premium luxury vehicle startup AEHRA showcased its second vehicle made of sheet-moulded carbon fibre, which is a different process but offers similar benefits.
By producing in larger pieces—during a single stage of the manufacturing process—companies are able to deliver vehicles much faster and at lower costs. At this stage, it's all about the effect that die-casting has on the bottom line, but there are also some key sustainability benefits from this kind of manufacturing. The production of large vehicle components in this way will minimise the amount of waste acquired from cutting and moulding hundreds of individual parts, and also create more robust finished products.
The subframe cast will produce the necessary shape for robustness and function. The company has said it will use solid sand cores in the die-cast mould, which can be removed at the end to leave necessary hollow spaces for its architecture to be fitted.
Could efficient manufacturing result in manufacturing electric cars to order?
Touching on sustainability a little, the process that Tesla put in place—and other businesses will likely adopt—brings the industry closer to a more responsible way of operating.
While not only shortening the production time, but also limiting its impacts, this process can be seen as a catalyst for made-to-order vehicles, which would decrease the number of cars built and not sold in the future. This also creates a more cost effective way of producing a large number of cars with less requirement for asset storage.
While this seems no trouble for Tesla as one of the leading electric car makers, there are certainly ways in which the technology, or something similar, could be adopted in the luxury car market or other areas with limited production runs.
******
EV Magazine is dedicated to creating a global community of businesses, experts, and EV enthusiasts with comprehensive insights into automotive and the surrounding sectors.
For more EV insights check out the latest edition of EV Magazine and be sure to follow us on LinkedIn & Twitter.
You may also be interested in Sustainability Magazine and Energy Digital Magazine.
*********************************************
BizClik is a global provider of B2B digital media platforms that cover Executive Communities for CEOs, CFOs, CMOs, Sustainability Leaders, Procurement & Supply Chain Leaders, Technology & AI Leaders, Cyber Leaders, FinTech & InsurTech Leaders as well as covering industries such as Manufacturing, Mining, Energy, EV, Construction, Healthcare + Food & Drink.
BizClik – based in London, Dubai, and New York – offers services such as Content Creation, Advertising & Sponsorship Solutions, Webinars & Events.