Charging & Infrastructure
Tata to expand the UK's EV battery production prospects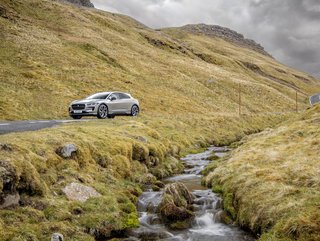 Credit: Jaguar Land Rover | The Jaguar i-Pace on country roads in the UK
The Chairman of Tata Group, Natarajan Chandrasekaran previously spoke about the announcement of an EV battery gigafactory based in Western England
Could Tata Group provide a much-needed win for the electric vehicle (EV) industry in the UK?
The multinational conglomerate from Mumbai, India, announced in early August its plans to build a £4bn (US$5.2bn) manufacturing facility for battery production in Western England. With the electric car industry growing at a rapid rate, and one of Tata's subsidiaries being an early mover into EV manufacturing, the country welcomes the idea of more battery power for the automotive sector.
The plans suggest the gigafactory is to be built in Somerset and generate 40 gigawatt-hours of batteries every year once production is in full swing. These batteries will likely power the luxury brands produced under Tata Group, including its heritage brands Jaguar and Landrover, allowing the company to peel off from similar businesses making slower entries into the electric market.
Britain's government is focused on delivering zero-emission transportation alternatives, but we've already seen some setbacks in its race to meet the needs of consumers. Namely, the Britishvolt gigafactory, which was meant to be developed in Blyth, Northumberland, was one of the countries first endeavours to deliver EV batteries of its own accord, but it was swiftly divested to Recharge Industries due to its inability to meet construction timelines.
A complex and strategic task—and one that Britishvolt never took on lightly—Tata will now look to build upon these efforts to provide for the country, and bring back automotive excellence.
In 2022, Jaguar Land Rover (JLR) built nearly 203,000 cars in the UK, which makes it the nation's second-largest producer of automobiles after the successful growth of Nissan's presence in the country. Car manufacturing has, however, declined over the years, which is likely due to a lack of access to sufficient supply of batteries and other components that require specialised manufacturing.
The Chairman of Tata Sons, Natarajan Chandrasekaran, said: "The Tata group is deeply committed to a sustainable future across all of our business. Today, I am delighted to announce the Tata group will be setting up one of Europe's largest battery cell manufacturing facilities in the UK.
"Our multi-billion pound investment will bring state-of-the-art technology to the country, helping to power the automotive sector's transition to electric mobility, anchored by our own business, Jaguar Land Rover. With this strategic investment, the Tata group further strengthens its commitment to the UK, alongside our many companies operating here across technology, consumer, hospitality, steel, chemicals, and automotive. I also want to thank His Majesty's Government, which has worked so closely with us to enable this investment."
Although the landscape seems to be changing, the UK is one country that has fallen behind in production, but makes up for it in renewable energy sector growth.
What does a gigafactory mean for the UK?
The UK automotive sector has seen increasingly more support from foreign conglomerates over the years, allowing it to maintain brands that paved the way for its industry. A number of UK brands are still seen as British at heart, but the majority owned by major players looking to shift their efforts rapidly toward electrification.
Lotus Cars, which recently released its first electric SUV, is owned by Geely, JLR by Tata—based in India, MG and LEVC are also owned by Chinese businesses, and Bentley by Volkswagen Group.
Many of the brands that were once wholly British now rely on globalised support through ownership and investment from corporations in Europe and Asia. This represents the globalised nature of the automotive sector, which will become the electric car market, and will shape the way the world works in a sustainable way. With larger companies investing in localised production of batteries and other components, the need for national ownership of EV businesses is very much obsolete—in fact, you could say that some brands rely on global ownership for success.
While Nissan has the lion's share of interest from a battery perspective—set to open its gigafactory in 2024—the country welcomes the idea of more production to assist sustainable implementation of its EV agenda.
******
Further insights can be found on our website or click here to receive our newsletter with a constant feed of new stories every week.
EV Magazine is dedicated to creating a global community of businesses, experts, and EV enthusiasts with comprehensive insights into automotive and the surrounding sectors.
For more EV insights check out the latest edition of EV Magazine and be sure to follow us on LinkedIn & Twitter.
You may also be interested in Sustainability Magazine and Energy Digital Magazine.
Please also check out our upcoming event - Sustainability LIVE in London on September 6-7 2023.
BizClik is a global provider of B2B digital media platforms that cover Executive Communities for CEOs, CFOs, CMOs, Sustainability Leaders, Procurement & Supply Chain Leaders, Technology & AI Leaders, Cyber Leaders, FinTech & InsurTech Leaders as well as covering industries such as Manufacturing, Mining, Energy, EV, Construction, Healthcare + Food & Drink.
BizClik – based in London, Dubai, and New York – offers services such as Content Creation, Advertising & Sponsorship Solutions, Webinars & Events.