Charging & Infrastructure
Polestar supplies battery charging systems to Candela e-boat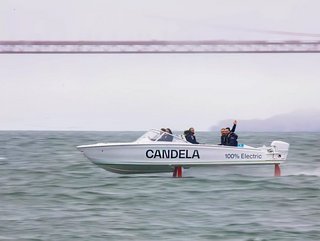 The electric 'flying' boat company, Candela, will receive battery charging systems from the pure-play EV company, Polestar, bringing e-boats to mass market
Marking a collaboration between road and marine companies, Polestar, the electric vehicle (EV) manufacturer, and the developer of electric hydrofoil boats, Candela, are working together to scale up production.

The companies teamed up to produce more electric boats, which Polestar is contributing to through the supply of battery and charging systems for Candela's speedboats. Through the deal, Candela is tapping into state-of-the-art technology and leveraging the developments made in the road transport industry.

"To make electric boats mainstream, we need to build thousands of boats every year," says Gustvav Hasselskog, Founder and CEO of Candela. "Working together with Polestar, we're able to bring the scale of production and world-class engineering from the automotive industry to the marine sector."
The electric boat manufacturer has already developed innovative products, including the Candela C-8—'flying' at 30 knots—andthe P-8 Voyager, which use up to 80% less energy than conventional boats.
Polestar's engineering excellence in marine EVs
The company has grown rapidly in both value and interest. In June 2022, the company successfully listed on the NASDAQ, marking a great period of success for the company, which, at the time, had sold more than 55,000 of them.
The most recent release by the company was the Polestar 5, the much anticipated EV from the company that showcased at the Goodwood Festival of Speed 2022—to be introduced to the market in 2024.
But there is more work to be done to electrify mobility and the company is delving into other means of transportation to play its part in the wider sustainability journey. The plan was influenced by the company's CEO, Thomas Ingenlath's interest in Candela products.
"I am fascinated by the way Candela's boats glide elegantly and efficiently through, or better, over the water—amazing proof of the great aesthetics and experiences modern, sustainability technology can create. Polestar will be part of future projects with Candela by supplying an essential part of the innovative propulsion of their boats, [which] is awesome," says Ingenlath.
"As a battery supplier to Candela, we can help drive the transition to cleaner oceans and lakes, and electrify [marine] transport."
We can't stress how significant the partnership will be to the development of Candela's boats as it has previously relied on smaller vendors, specialising in marine battery packs. Partnering with Polestar brings a whole new dimension to its vehicles and amalgamates the lessons from the automotive industry with a clearer canvas in the boat industry.
"Thanks to the partnership with Polestar, we're able to secure state-of-the-art battery packs for our production ramp-up. As the number of electric vehicles increases worldwide, a steady battery supply will become increasingly important to hold a competitive edge and allow us to compete with combustion engine boats'" says Hasselskog.