Charging & Infrastructure
EV drivers access performance car power at lower prices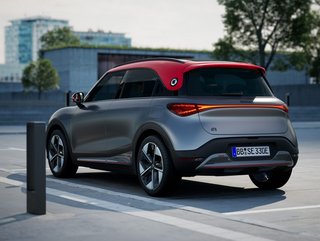 Smart #1 Brabus
GRIDSERVE's study shows the power of EV, but how can drivers find affordable solutions as cost remains is a key factor in choosing a rivalling electric car
When it comes to outright performance of cars, electric vehicles (EVs) of varying values seem to rival the highest of internal combustion engine (ICE) specifications on the market.

If sustainability wasn't a big enough factor in the choice between electric and fossil-fuel-powered cars, then maybe the performance will be enough to influence drivers.

GRIDSERVE Sustainable Energy Limited carried out a study to rank the fastest EVs on the market today and, as the company provides influential services to drivers, it aims to use this information to support the case for battery-electric cars.

Which EV is the fastest?
When it comes to speed, the majority of EVs available on the market today will rival all others that burn petrol or diesel.
But, the Tesla Model 3 Performance leads the way in straight line speed with a 0-60 mph in 3.2 seconds. That's enough to put 90.36% of performance vehicles to shame.
It also seems that Kia is having its turn in the top rankings as its acceleration is as low as 3.4 seconds and beats 87.05% of the most powerful cars. The Model Y Long Range Performance is also up there as it achieves 3.6 seconds and is faster than 83.15%.
Cost is still a concern for motorists
The industry has very much been flipped on its head as all-electric power exceeds the capabilities of traditional performance vehicles, but this is all fun for those that can afford such high-end cars. The cost of purchasing even a small EV is yet to outweigh the price of using and fueling a traditional car.
The Smart #1 Brabus is the lowest priced car on the GRIDSERVE list with a high power output, but is still relatively unaffordable for the average driver at £42,000 (US$52,000). However, Smart does own the rights to one of the most affordable cars on the EV market, the Smart EQ Fortwo, which is significantly less powerful and has a shorter range than most EVs of up to 81 miles.
With such difficulty rivalling the spec of ICE vehicles on the market, the landscape for flexible EV usage and leasing, which is where GRIDSERVE supports UK consumers as more than just a chargepoint provider.
Providing services from sun to wheel, GRIDSERVE educates consumers on the best practices when adopting and using an EV while also providing comprehensive services to allow people brought up with traditional cars to make the shift to electric seamlessly.
Through its comprehensive leasing services, clients gain access to a number of new vehicles and charging across the UK, creating a network of the latest charging technologies, contactless payments, and sustainable energy.