Charging & Infrastructure
Batteries make history and enable zero-emission mobility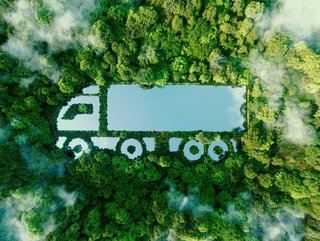 Image of forest with a gap shaped like a truck
The key component to the majority of zero-emission transport is the battery, but let's look beyond to find out what makes it safe and sustainable
With many industrial revolutions taking place over the years, not many have been as significant as the electrical revolution that we're seeing today.
There is a larger population to serve – which is growing by the day – and external environmental concerns to take into account as we navigate life's mysteries. Serving both is a matter of electrification, which begins with the shift in mindset preceded first by a shift in propulsion.
This change to decarbonise transport is driven by a key component, which has actually supported drivers longer than is immediately realised. It's only now that the automotive industry is realising the true capabilities of battery power and electric propulsion as the demand for EVs increases rapidly.
But electrification alone isn't the answer. To sustain the EV industry's growth and longevity for a sustainable future, businesses must be responsible for the sourcing, innovation, and life cycle of EVs.
Having spoken to a key figure in the industry, we're delving into a topic that often plagues yet excites the industry: batteries.
Batteries provide more than just power
Batteries are more sophisticated than ever. The way that OEMs have integrated them into platforms to form the basis of EVs shows their versatility and power density, which has only evolved as organisations like Dow have come up with more suitable materials compositions to make them more sustainable for day-to-day applications.
"We're focusing a lot on the assembly materials for batteries. The battery is a key component of that – the new lifeblood of the vehicle," says John McKeen, Technology Director at Dow MobilityScience™.
"We're looking at a number of different areas, helping OEMs and battery manufacturers achieve longer range, achieve better performance, and really looking at thermal management and assembly."
For OEMs, it's all about making their products better every time whether that means developing the safety credentials of their cars or ensuring EVs adhere to a circular economy, but the key component to get right is the battery.
Battery composition through a safety lens
The last conversation OEMs want to have is how to deal with negative press. As some EVs have been scrutinised for their unfortunate ability to catch fire in operation, there's a point to be made about safety and how manufacturers build their vehicles to harness the battery's true potential safely.
To investigate the approach to safe, optimal battery composition, thermal management is an area that garners the expertise of various professionals.
"Design is a super important piece of that. Mechanical engineers, chemists, chemical engineers, electrical engineers are all required to optimise and get it right," says McKeen. "You can't do just one. You really need to bring them all together in concert to optimise for performance, cost, and to make the right material choices."
As seen in recent trends, authorities struggle to deem some EVs as repairable, which is driving the need to make battery packs in such a way that allows them to be dismantled for two reasons. The first is to avoid vehicle write-offs as EVs are known to be redundant in the event of battery damage, and secondly—following this point—ensuring they adhere to a circular economy. For cars to really be sustainable, batteries must come full cycle in such events or at the end-of-life.
"There's certainly a lot of talk about reusing them and connecting them to the electricity grid," says McKeen. "I certainly believe that we'll see batteries recycled. We recycle more than 90% of aluminium from a vehicle, more than 98% of iron, and I think the same is going to be true of the metals used in batteries."
Thermal and charging innovations for DC charger compatibility
One of the key elements of battery composition that enables much-desired DC fast charging capabilities is thermal management.
"A lot of the batteries on the market today will charge up to 150 kilowatt hours and are headed towards 250 or 350. That's really enabled by the architecture of the cell, but also thermal management in the battery," says McKeen.
As the demand for faster charging grows, the underlying factor in ensuring EVs can power up safely – and, in fact, whether it works at all – is a result of developing battery thermal architecture, which begins at the charger cable and ends with the battery pack itself.
"We're working on materials that have higher thermal conductivity so we can transfer more heat quickly. There's a number of different ways to remove heat from the cells themselves, so we also work on materials that would enable a different type of coolant architecture."