Charging & Infrastructure
WEG expands EV charging offering to European markets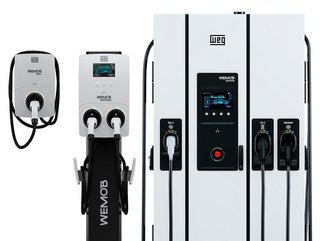 "Anyone who knows our history knows that WEG continuously grows and evolves," says Harry Schmelzer Jr., WEG CEO. Credit | WEG
WEG chargers are engineered to be compatible with all major EV models, & embody WEG's vision for a more sustainable future says WEG's Marek Lukaszczyk
Founded in 1961 as a motor company, WEG has grown into a global solutions provider of industrial electrical technologies and is one of the largest electric motor manufacturers in the world, producing more than 21 million units annually. WEG branches can be found in 37 countries, manufacturing plants in 15 countries and the company exports to 135+ countries across all continents.

"Anyone who knows our history knows that WEG continuously grows and evolves," says Harry Schmelzer Jr., WEG CEO.
"We believe that the future of all businesses will depend on our ability to be innovative, sustainable and productive. Therefore, we will continue developing products and solutions based on innovation, technology and sustainability concepts, investing in people and communities and pursuing our mission of continuous and sustainable growth, while maintaining simplicity."
Schmelzer has been at WEG since 1981, working across multiple areas of the business before he took over the Executive Presidency of the WEG Group in 2008.
WEG expands electric vehicle charging offer
The global electrical equipment manufacturer has launched its new range of electric vehicle charging systems — the WEG Mobility Chargers (WEMOB) parking recharging stations — to the European market. After rigorous development, the technology has been successfully rolled out in South America and is now also being deployed in selected positions in Europe.
WEMOB Chargers are designed to be adaptable and cater to a range of electric vehicle types. The systems are available in two models in Europe: WEMOB Parking caters for standard charging and the WEMOB Station accommodates higher power charging systems for larger public spaces.
WEMOB Parking has proven popular for workplace car parks, providing organisations with facilities for their employees to charge EVs on site. Allowing for installation at any voltage, WEMOB Parking can be installed from 100 up to 240V single-phase/two-phase or up to 415V three-phase, depending on the requirements. This allows for simultaneous charging of up to two vehicles at up to 21 kW each, with a five-metre cable to ensure flexibility for the user.
"WEMOB Chargers are engineered to be compatible with all major electric vehicle makes and models, irrespective of their charging standards," explains Marek Lukaszczyk, WEG Marketing Manager for Europe and the Middle East. Lukaszczyk has been at WEG since 2000, starting as Head of Marketing for the UK and moving towards Brazil before his current role.
"We have also prioritised a user-friendly interface. The system has been designed to provide a hassle-free experience for EV drivers, with a multicolour LCD display that operates in dark mode with high resolution and brightness, allowing users to easily view their charge information.
"WEMOB Chargers embody WEG's vision for a more sustainable future. Having launched the chargers successfully in the South American market, and with fruitful deployments at our own facilities and that of our distributors in Europe, we are ready to engage in conversations with green employers in Europe about installation."
*********************************************
EV Magazine is dedicated to creating a global community of businesses, experts, and EV enthusiasts with comprehensive insights into automotive and the surrounding sectors.
For more EV insights check out the latest edition of EV Magazine and be sure to follow us on LinkedIn & Twitter.
You may also be interested in Sustainability Magazine and Energy Digital Magazine.
*********************************************
Net Zero LIVE will be hosted live from the QEII Centre, London on the 6th and 7th of March, and streamed globally via our virtual event platform Brella. Net Zero LIVE London will feature four LIVE themes, incorporating Sustainability LIVE, EV LIVE, Scope 3 LIVE, and Energy LIVE to deliver a holistic conference and exhibition experience with opportunities to connect with like-minded peers and actively contribute to crafting a sustainable future. Following Net Zero LIVE, viewers can also sign up for Sustainability LIVE Dubai and Singapore.
Sign up to the The Global Sustainability & ESG Awards 2024, coming to London on the 11th September 2024.
*********************************************
BizClik is a global provider of B2B digital media platforms that cover Executive Communities for CEOs, CFOs, CMOs, Sustainability Leaders, Procurement & Supply Chain Leaders, Technology & AI Leaders, Cyber Leaders, FinTech & InsurTech Leaders as well as covering industries such as Manufacturing, Mining, Energy, EV, Construction, Healthcare + Food & Drink.
BizClik – based in London, Dubai, and New York – offers services such as Content Creation, Advertising & Sponsorship Solutions, Webinars & Events.