Charging & Infrastructure
Toyota: Driving development in liquid hydrogen fuel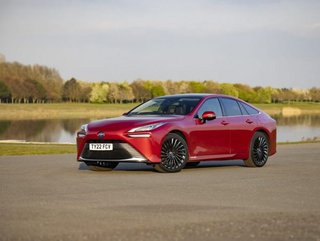 Toyota's Mirai features the second generation of Toyota's zero emission hydrogen fuel cell electric saloon. Credit | Toyota
Toyota's innovative H2 Corolla has completed its first race — the Super Taikyu Fuji 24h Race — fuelled by zero-emission liquid hydrogen
With the effects of climate change becoming increasingly apparent, the acceleration of zero-emission vehicle legislation, and The Paris Agreement goals looming, attention is turning to alternative fuels.
Hydrogen is used in a variety of industries as a clean energy source as, when burned, hydrogen produces no greenhouse gases — only water vapour — making it an incredibly favourable source of fuel when compared to oil or coal.
Toyota has developed the first racing car fuelled by liquid hydrogen, expanding on the gaseous hydrogen fuelled H2 Corolla.
Driven for the first time in November 2022, the car manufacturer employed innovative technologies to use the liquid fuel that is currently mostly found in rockets.
Benefits and restrictions of liquid hydrogen fuel
Alongside the lack of greenhouse gases produced when burning hydrogen, the fuel is attractive for multiple reasons:
Range — liquid hydrogen's energy density (energy per unit volume) is 1.7 times higher than gaseous hydrogen, allowing the car to travel further.
Pressurisation — gaseous hydrogen requires high pressurisation which its liquid counterpart does not. Vehicles using liquid hydrogen have more freedom in tank design and possibly more rear space. This also reduces compression equipment requirements.
Refuelling — liquid hydrogen refuelling can take place in the same space as gasoline-powered vehicles.
However, as with many groundbreaking technologies, there are also drawbacks:
Liquid hydrogen must be kept at -253°C, the temperature of liquefaction.
Innovative manufacturing requires trusted partnerships — companies had to take a risk in the new technology, as liquid hydrogen had previously only been used to fuel rockets in space.
Japanese manufacturers Shinko Industries are Toyota's chosen partner for fuel tank building, utilising over 80 years of experience to hand weld the intricate foundation of the vehicle.
"We saw for ourselves Toyota's commitment to the future of Japan — being part of that was the biggest motivation to join the project." recounts Keiji Kawano, Deputy General Manager of Shinko Plant Service.
"We wanted to prove that a car equipped with the tank we made could race safely before crowds of spectators. We threw everything we had into this project, believing in a future where cars running on liquid hydrogen are part of everyday life."
Liquid hydrogen: Is it the future of sustainable travel?
"We undertook this effort to help create a hydrogen society," said Akio Toyoda, Chairman of Toyota.
"As we've said from the outset, the future will be shaped by acting with purpose and passion. Even while the engineers were saying it couldn't be done, they've managed to develop the technology in an agile way while remaining competitive and keeping an eye on what's going on around us."
Toyota's liquid hydrogen fuelled H2 Corolla competed in the Japanese Super Taikyu Fuji 24h Race, successfully completing 358 laps totalling 1,634 km.
However, the car was due to compete in the season opener at Suzuka in March, and a vehicle fire only a week out from the race prevented the car from competing. The Toyota team used this as an opportunity to rebuild better, and stronger, resulting in a lighter, faster car to compete at the 24 hour race.
"Carbon neutrality is the challenge of our time. Our hydrogen-engine GR Corolla highlights our journey to expand future options through purposeful passion and action. I hope that, with each extra lap, each additional second this car spends on the track, we keep pushing the door open to a new future," Toyoda said to his teammates on the day of the 24 hour race.
Looking to the future, Toyota is working with leading universities to develop liquid hydrogen technologies.
Joint research into superconducting motor technology for liquid hydrogen pumps for automotive use is being worked on by Toyota, Kyoto University, University of Tokyo and Waseda University, with Wasda University also working on centrifugal pump technology for liquid hydrogen for automotive use.
"As a driver myself, I want people to see hydrogen not as a danger but as our future," Toyoda says.
******
EV Magazine is dedicated to creating a global community of businesses, experts, and EV enthusiasts with comprehensive insights into automotive and the surrounding sectors.
For more EV insights check out the latest edition of EV Magazine and be sure to follow us on LinkedIn & Twitter.
You may also be interested in Sustainability Magazine and Energy Digital Magazine.
Please also check out our upcoming event - Sustainability LIVE in London on September 6-7 2023.
BizClik is a global provider of B2B digital media platforms that cover Executive Communities for CEOs, CFOs, CMOs, Sustainability Leaders, Procurement & Supply Chain Leaders, Technology & AI Leaders, Cyber Leaders, FinTech & InsurTech Leaders as well as covering industries such as Manufacturing, Mining, Energy, EV, Construction, Healthcare + Food & Drink.
BizClik – based in London, Dubai, and New York – offers services such as Content Creation, Advertising & Sponsorship Solutions, Webinars & Events.