Charging & Infrastructure
Swap out range anxiety for flexible EV charging solutions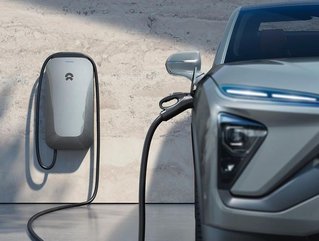 Swap out range anxiety for flexible EV charging solutions
Plug-in charging is the new convention but battery swapping shows great potential for wider use while introducing flexibility through battery-as-a-service
It's not very often you can sum up a conversation in a one-liner that addresses both the challenge and opportunity at the same time.
"Battery swapping is the answer to the question everyone's been asking: 'show me an electric car that I can recharge as quickly as I can refuel my petrol or diesel car, and I'm interested'."
This was an exciting conversation to have with Managing Director for NIO UK, Matt Galvin, who indulged us with some insights from the company, which just so happens to be the first to successfully bring battery-swapping technologies to the EV market. And what a way to do it – releasing a car that functions seamlessly with a Power Swap Station and packaging this all together with autonomous solutions that take care of the work for you.
In essence, NIO has exceeded the expectations alluded to in the aforementioned quote, because with a NIO, the driver has the option to charge the car hands free. In fact, the driver does very little in the battery swapping process. Changing the battery of any NIO vehicle can be achieved from the car and is fully automated, meaning the car itself will align with the Power Swap Station to ensure a successful change of component.
And with success being a key word when talking about NIO, the company has already delivered over 1,500 Power Swap Stations globally and completed more than 22 million battery changes since inception.
But, before getting into the details of NIO's success, it's important to readdress the challenges that it set out to overcome. The company's efforts to develop the Power Swap solutions – accompanying some very hi-tech, electrified automobiles—are all in favour of changing the EV narrative from one fuelled by range anxiety to allowing drivers more freedom.
"From a user perspective, it really does provide a real sense of freedom, deep reassurance – and takes away a lot of the anxiety that sometimes is associated with EV ownership – when you know that, actually, recharging your car is as quick and as convenient as refuelling your petrol or diesel car," says Galvin.
It seems that technology has done it again; digital solutions have provided us with a sustainable option to recharging vehicles while also balancing the energy demand placed on the grid.
"It's a really great technology. The current Power Swap Stations are not only very technologically advanced in terms of their ability to serve our users, but more importantly are very sustainable. They can offer load-balancing capabilities to the grid so that, when there's a high load on the grid, they can actually supply power back into it," says Galvin.
Sustaining the future prospects for battery swapping
What's important to point out is battery swapping stations are merely the mechanical and technological catalysts for a service that adheres to sustainable principles, and provides drivers with greater confidence in their EVs. The battery-as-a-service model is one that is likely to grow and could potentially become the favoured choice for a lot of EV owners.
It seems that what NIO has created ticks all of the boxes on the electrification list as it addresses driver range anxiety, balances demand to enable sustainable energy usage, and will also optimise batteries by creating a shared culture around the Power Swap solution.
As the rollout of battery swapping accelerates, customers will begin to see this solution globally as NIO intends to take this pioneering solution to new markets.
"We're going to take this battery swap technology to more markets under the NIO brand. And we're open to cooperating with other brands and companies to share this technology and increase the uptake of battery swapping," says Galvin.
"We firmly believe that it's the right thing to do, not only from a sustainability and environmental perspective, but also from a user perspective."
NIO is in a unique position to drive a new outlook on EVs and the infrastructure that organisations provide to drivers across the globe. By sharing its out-of-the-box thinking with new companies and countries, the Power Swap solution – along with similar solutions – could reshape the way EV drivers charge their cars, and could even help adopt a faster, more convenient approach than what we've seen for decades with ICE vehicles.