Charging & Infrastructure
Nissan adopts Tesla charging technology in North America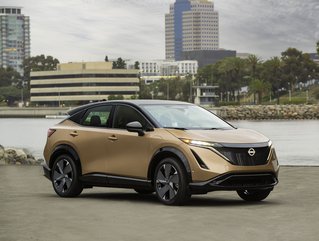 2023 Nissan Ariya. Credit | Nissan
Nissan has become the first Japanese auto company to adopt Tesla's electric-vehicle charging technology in the US and Canada, joining Ford, GM and Rivian
From 2025, Nissan will utilise Tesla's North American Charging Standard (NACS) port in the US and Canada, allowing more options for its clients as the company aims for 40% of vehicle sales in the US to be electric.
"Adopting the NACS standard underlines Nissan's commitment to making electric mobility even more accessible as we follow our Ambition 2030 long-term vision of greater electrification," said Jérémie Papin, chairperson, Nissan Americas.
"We are happy to provide access to thousands more fast chargers for Nissan EV drivers, adding confidence and convenience when planning long-distance journeys."
Who is charging the EVs of the US?
Nissan joins EV producers Ford, General Motors and Rivian in accepting NACS in the US, despite the Biden administration pushing to standardise the Combined Charging System (CCS) in the US.
Nissan's EV models currently using CCS will be provided with NACS charging adapters from 2024, enabling them to use the Tesla chargers that currently make up 60% of fast chargers in the US.
Nissan Leaf drivers have travelled 8 billion miles globally, and Nissan are striving to extend those journeys without charging concerns due to infrastructure.
Nissan's ESG targets working for net zero
Nissan is working towards zero emissions through carbon neutrality across the life cycle of its products by 2050.
"We have placed electrification at the core of our long-term vision to achieve carbon neutrality with plans by the early 2030s for every new Nissan vehicle offering in key markets to be electrified," Nissan's CEO Makoto Uchida says.
The company has launched its Nissan Ambition 2030 programme that outlines its ESG goals, including net zero by 2050.
To achieve this, it is focussing on three main areas:
Accelerating electrified mobility with diverse choices and experiences. The focus here is to increase electrification sales mix, accelerating the vehicle lineup electrification and rate of technology innovation with investments of two trillion yen over the next five years. Nissan will also introduce 27 new electrified models, including 19 new EVs by fiscal year 2030 aiming for an electrification mix of 55% globally.
Increasing accessibility and innovation in mobility. Nissan aims to make mobility more accessible and innovative for everyone, regardless of their background or location through advanced autonomous vehicle technologies, evolved all-solid-state batteries (ASSB) and the creation of new mobility services for more efficient and sustainable mobility.
Global ecosystem for mobility and beyond. The company aims to create a comprehensive network of EV charging stations, smart grid systems, and renewable energy sources that support a more sustainable and efficient transportation system, thus enhancing infrastructure and supporting a circular economy in energy management.
******
EV Magazine is dedicated to creating a global community of businesses, experts, and EV enthusiasts with comprehensive insights into automotive and the surrounding sectors.
For more EV insights check out the latest edition of EV Magazine and be sure to follow us on LinkedIn & Twitter.
You may also be interested in Sustainability Magazine and Energy Digital Magazine.
Please also check out our upcoming event - Sustainability LIVE in London on September 6-7 2023.
BizClik is a global provider of B2B digital media platforms that cover Executive Communities for CEOs, CFOs, CMOs, Sustainability Leaders, Procurement & Supply Chain Leaders, Technology & AI Leaders, Cyber Leaders, FinTech & InsurTech Leaders as well as covering industries such as Manufacturing, Mining, Energy, EV, Construction, Healthcare + Food & Drink.
BizClik – based in London, Dubai, and New York – offers services such as Content Creation, Advertising & Sponsorship Solutions, Webinars & Events.