Amazon expands its UK fleet of electric cargo bikes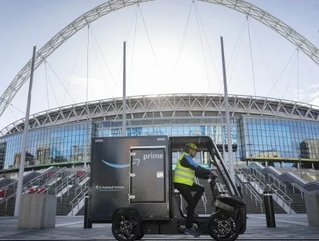 This announcement comes as the first stage of its five year £300mn investment into the electrification and decarbonisation of its UK transportation network
Amazon has announced major investments into its UK fleet of e-cargo bikes, with its expansion plans commencing with the launch of three new micromobility delivery hubs, based in London and Manchester.
Amazon's investment into sustainable EV delivery vehicles
Thanks to its ongoing investment into e-cargo bikes and walkers, Amazon expects to make more than two million deliveries a year across the UK. This will more than triple Amazon's existing e-carbo bike fleet delivering across London.
This latest investment has seen Amazon expand to introduce three further micromobility hubs in the UK. But, Amazon has said that it plans to roll out further micromobility hubs in the UK over the course of the coming months.
The initiative forms a critical part of Amazon's decarbonisation strategy as, alongside this increase in EVs, Amazon will reduce the number of its delivery vans on the roads.
Amazon's existing central London e-cargo bike fleet, which was announced in July this year, has already made over five million e-cargo bikes and electric van deliveries so far in 2022.
Alongside this landmark investment in the UK market, Amazon has also announced further micromobility expansion plans across France and Italy.
In fact, the company's e-cargo bikes and on-foot delivery systems are now operational in hubs spanning more than 20 cities across Europe.
"With more than €1 billion committed to electrifying and decarbonising our European transportation network over the next five years, including more than £300 million in the UK alone, we remain laser focused on reaching net carbon zero by 2040," commented John Boumphrey, UK Country Manager, Amazon.
"These new hubs will not only bring our customers more electric-powered deliveries, but also support local authorities looking for ways to reduce congestion and find alternative transportation methods. We look forward to expanding our e-cargo bike fleet further in the coming months."
"E-cargo bikes can play a vital role in reducing emissions, and that's why we've already helped hundreds of firms to use them for deliveries," added Amazon's Decarbonisation and Technology Minister, Jesse Norman.
"With ever more people buying goods online, it's more important than ever that we move to greener alternatives, and today's announcement is one step closer to achieving that goal."