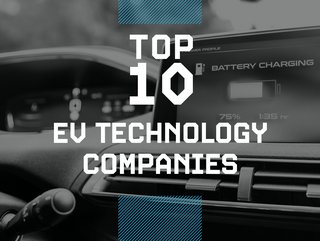 Top 10: EV Technology Companies by EV Magazine
EV Magazine brings you the top 10 EV technology businesses that impact the way companies build, operate and maintain electric and hybridised vehicles
The automotive sector has become a breeding ground for new and innovative electric vehicle (EV) technologies, as well as those further applied to other industry areas. Recognising the demand for digital transformation in this space, the following 10 businesses have developed solutions that will pave the way for increased EV usage and mobility of the future.

10. Bosch EV Solutions
In the realm of charging, Bosch EV Solutions delivers a number of options suitable for public, commercial, and home charging installations.
EV300 Level 2 EV Charging Station
EV300 30kW DC Fast Charger
EV400 Series
Aside from its home instalments, Bosch's network of chargers spans APAC, EMEA, and the Americas.
9. Oracle
The company increased its revenue by 18% in its latest financial year, but is also heavily involved in decreasing emissions. Through its Opower solutions, Oracle is looking to enhance visibility of the EV owner landscape with its presence discovery capability, which identifies customers with electric cars.
Opower solutions position electric vehicles as energy assets, making them critical grid resources for shifting energy load and managing power transmissions. The Opower product product portfolio enables companies to gain cost-efficiency, demand flexibility, engage with customers, and reach limited income households.

8. AMD

User experience is evolving rapidly now that cars are increasingly connectable with more room for adaptation and technical innovation. Not only do drivers want more functions from their EVs, but AMD is committed to eliminating distractions from in-car displays and other digital technologies that can be leveraged to make their lives easier.
This evolution of its IVX Architecture–a solution that is flexible and scalable for a wide range of digital cockpits—will not only bring more enjoyment from cars, but camera technologies combined in a single driver monitoring system (DMS) within the car help keep the driver safe.
Augmented Reality HMI: multi-path video routing, HUD controller, rear camera support, integrated vehicle processing, bridge video standard
In-Cabin Monitoring System (ICMS): multi-face detection, occupant count; location; and biometrics, seat belt detection, pet and child detection
Drive Monitoring Systems (DMS): detection of head position, eyes, emotions, attentiveness, sunglasses, clothing and face masks
In 2022, the company collaborated with ECARX on this immersive digital cockpit innovation, which is best primarily for new-generation EVs.

7. Dell
Dell Technologies is playing its part in the EV transition through technology—specifically that supporting manufacturers to meet growing demands for battery units.
Dell stands at the forefront of unstructured data storage solutions, offering top-tier File (PowerScale) and Object (ECS) storage systems. Many of the world's renowned EV battery producers have embraced these offerings.
With a seven-year streak of being recognised as a top player in Gartner's Magic Quadrant for distributed file systems and object storage, coupled with PowerScale's accolades as the globe's most adaptable and safest scale-out NAS option, our solutions perfectly align with the demands of smart manufacturing. This ensures consistency, dependability, security, and scalability for EV battery production enterprises.

6. AWS
AWS is one of the world's leaders in software, but also has a toe in the connected car space. Owned by Volkswagen, WirelessCar is supported by AWS as it provides smart EV routing to optimise travel via in-car information systems.
AWS is leveraging the cloud to support OEMs with this task, which is a desirable function for consumers and businesses that stress about range and EV charging. Supporting WirelessCar means that AWS is also intrinsically linked to further automotive brands, including Subaru, Nissan, Mercedes-Benz, JLR, and pure-play companies like Polestar and Lynk&Co.
Cloud solutions can be used to link a number of data sources, such as vehicles themselves, EVs at the charging point, traffic information and real-time weather, all with the intention of ironing out the problems that drivers experience today in a growing mobility landscape.

5. Google Cloud
Kaluza, a UK tech firm, is collaborating with Google to harness the power of Google Cloud services to enhance energy usage in the EV industry. Specifically, Kaluza employs Google Cloud to elevate energy visibility, optimising electric vehicle charging by promoting efficiency and reducing carbon emissions.
This partnership exemplifies the collaboration between cutting-edge cloud technology and sustainable energy solutions. By using real-time emissions data provided by Google Cloud, Kaluza can make informed decisions on energy usage, emphasising the company's commitment to sustainability and innovation. This collaboration signifies a pivotal step in driving the energy transition, with both Kaluza and Google playing vital roles in fostering a greener future.
The technology behind Kaluza's charging solutions is built on Google Cloud, which optimises the gathering of real-time data from a variety of sources. Supported by Google's BigQuery and Google Kubernetes Engine, the company is able to validate date accuracy and optimise it in real-time to manage charging schedules.

4. SAP E-Mobility
SAP E-Mobility assists companies in managing large-scale electric vehicle (EV) charging networks, promoting a shift to sustainable electric transportation. This solution empowers businesses to oversee charge points, integrating them into the mobility value chain on the cloud. It facilitates connections between stakeholders, fostering collaborative business models. With SAP E-Mobility, companies can seamlessly incorporate EV charging into core business activities like reimbursement.
The platform allows businesses to establish, monitor, and manage their charging networks without relying on external expensive providers. Utilising SAP Business Technology Platform and e-mobility solutions, it offers vertical capabilities with genuine business impact. Besides basic charge point management, it supports varied charging scenarios like Charge@Home, Charge@Work, and Charge@Public.
Features include real-time monitoring of charging infrastructure, easy EV setup, smart charging with power grid optimisation, varied pricing plans, bidirectional communication based on Open Charge Point Protocols, and integration into SAP's core systems.

3. Microsoft
Microsoft entered into a strategic partnership with General Motors (GM) and Cruise in early 2021 with a key focus on driving autonomy in the EV sector. Working closely with the companies to deliver commercial self-driven vehicles, Microsoft's role is to expedite such a task.
GM also selected Microsoft as its preferred public cloud provider, which goes beyond electrification to accelerate the company's growth and digitisation with storage, collaboration, and access to artificial intelligence (AI) and machine learning (ML). Microsoft is invested heavily in climate change with a particular emphasis on driving down emissions in technology and automotive. As a result, the company looks to provide more digital means of transportation and reinvent smart mobility services as more and more data becomes available.
2. Intel
The role of Intel can be seen in hardware—under the body of an electric or hybrid car. Developments undergone by the company resulted in a number of advances in EV and hybrid-electric vehicle (HEV) operation, such as motor controls, power conversion, and battery management. Developing Field Programmable Gate Arrays (FGPAs) puts Intel in the automotive sector as a key hardware innovator.
Automotive FPGAs are versatile and can be reprogrammed to meet the changing demands and complexities of the EV sector. This adaptability plays a critical role in accelerating innovation and ensuring that EVs are efficient, reliable, and adaptable to technological advancements. Intel's focus on electric motor controls through FPGAs ensures optimised performance of electric motors, leading to better energy efficiency and responsiveness.

1. NVIDIA
NVIDIA is one of the biggest contributors to the EV sector as its DRIVE solution is the desired choice for a number of different OEMS and electric car makers.
The NVIDIA DRIVE AGX™ platform, a scalable, software-defined solution, stands out due to its top-tier performance capabilities. This platform empowers autonomous vehicles to process vast amounts of data from sensors efficiently, ensuring the vehicles operate safely and smartly in diverse environments.
NVIDIA also pioneered simulation solutions that expedite the development and deployment of self-driving cars. Specifically, the NVIDIA DRIVE Sim™ is a crucial tool that leverages high-fidelity and physically accurate simulations. It offers a safe, scalable, and cost-effective methodology to test and improve autonomous vehicles without the risks associated with real-world testing.
******
Further insights can be found on our website or click here to receive our newsletter with a constant feed of new stories every week.
EV Magazine is dedicated to creating a global community of businesses, experts, and EV enthusiasts with comprehensive insights into automotive and the surrounding sectors.
For more EV insights check out the latest edition of EV Magazine and be sure to follow us on LinkedIn & Twitter.
You may also be interested in Sustainability Magazine and Energy Digital Magazine.
Please also check out our upcoming event - Sustainability LIVE in London on September 6-7 2023.
BizClik is a global provider of B2B digital media platforms that cover Executive Communities for CEOs, CFOs, CMOs, Sustainability Leaders, Procurement & Supply Chain Leaders, Technology & AI Leaders, Cyber Leaders, FinTech & InsurTech Leaders as well as covering industries such as Manufacturing, Mining, Energy, EV, Construction, Healthcare + Food & Drink.
BizClik – based in London, Dubai, and New York – offers services such as Content Creation, Advertising & Sponsorship Solutions, Webinars & Events.