JLR incorporates AI to predict EV supply chain disruption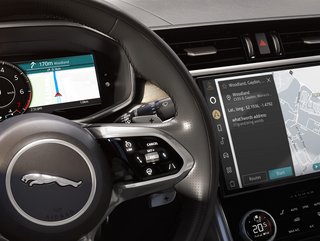 Artificial intelligence will play a key role in JLR's strategy to decarbonise—through supply chain transparency and predictability.
Delivering business resilience into its electric vehicle operations, Everstream Analytics will incorporate artificial intelligence into JLR's supply chain
Artificial intelligence (AI) is a super power for supply chains and more so a necessity for avoiding major disruption. Over the past few years, we've seen the effects of major incidents unfold—international conflict and unforeseeable delays—that shed a light on the weak points within business processes.

Understanding these is crucial and to ensure a steady supply of electric vehicles (EVs) in these years of transformation, organisations like Jaguar Land Rover (JLR) seek the assistance of AI to provide real-time insights and, more importantly, predictive capabilities to reduce the number of disruption possibilities.

Collaborating with Everstream Analytics, JLR looks to do just that as it incorporates more data into its supply chain activities to keep its vehicles moving.

"As part of our Reimagine Strategy, we are building a robust digital-first Industrial Operations ecosystem consisting of advanced technology and long-term strategic relationships that gives us end-to-end visibility of global shocks in an increasingly unpredictable world," says Barbara Bergmeier, Executive Director, Industrial Operations at JLR.
"Through our collaboration with Everstream Analytics, we are harnessing the power of AI to proactively manage risks before they cause disruption to production, ensuring we are resilient and can deliver on the commitments we make to our clients. This foresight will become even more critical as we develop a new value chain around our next generation ultra-desirable modern luxury electric vehicles."
Ultimate supply chain predictability supported by AI
Everstream's technology will enable real-time monitoring of JLR's supply chain in an attempt to mitigate downtime by averting future problems.
In order to navigate any future problems, JLR will be able to look back on global events and analyse the key trends in data to make more informed decisions and build resilience into its supply chain.
"The global value chains serving electrified vehicles are among the most complex to navigate," says Julie Gerdeman, Chief Executive Officer at Everstream Analytics.
"Everstream Analytics' AI-driven supplier visibility and insights empower JLR to proactively mitigate risks, enhance agility, and promote supply chain resilience. We are proud to partner with this visionary leader on their journey to drive positive, sustainable change in the automotive industry."
Incorporating Everstream's technology into the supply chain is part of a wider strategy by the company, which involves building a state-of-the-art supply chain digital ecosystem to deliver visibility from both ends and secure the organisation's future as it drives the adoption of EVs.
The company's Reimagine Strategy influences decision making at JLR as it transitions to a pure-electric brand—a status it hopes to wear proudly from 2025 onwards.