SolarBotanic partners to develop prototype EV charging tree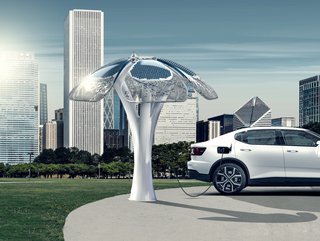 The prototype of the SolarBotanic Tree is supported by the AMRC and sees the EV charging technology to its next development phase to manufacture 200 units
The all important thing about climate change is to protect nature and what better way to honour the fallen trees than to rebuild cities in such a way that mimics their shape and function as mature specimens.

Rather than sequestering carbon dioxide, the trees from SolarBotanic Trees have similar, yet different regenerative functions.

The company came to our attention earlier as an innovative solution that uses space much more effectively to provide electric vehicles (EVs) with the power they need.

Thanks to input from the University of Sheffield Advanced Manufacturing Research Centre (AMRC), SolarBontanic's great solution is making progress in the development stage and the company announced the creation of its first commercial prototype.

The first tree is expected to achieve great strides in electrification and leverages renewable energy to do so. As the company's name suggests, the tree utilises solar energy and is capable of powering homes and charging EVs sustainably.

"We are delighted to be working with the fantastic team at SolarBotanic Trees on the development of its energy-generating solar tree," says John Spencer, Senior Project Manager at AMRC.

"The business has a great product, which will play an important role in developing the infrastructure necessary to support the shift to zero-emission electric vehicles—a core part of the UK government's net-zero strategy."
Revolutionary EV charging to reach production
Working with the AMRC, SolarBotanic will leverage the team's design and prototyping expertise to ensure successful development of a working tree, ensuring that the product is scalable for wider production plans. As part of High Value Manufacturing (HVM) Catapult network of research centres, the AMRC, its goals align with SolarBotanic as both strive to enable more innovation to achieve net zero, by producing carbon-reducing technologies.

"With the AMRC bringing its design and prototyping expertise to the table it will help us accelerate commercialisation," says Chris Shelley, CEO of SolarBotanic Trees.

"The team at the AMRC is a great partner for SolarBotanic Trees to deliver the prototype at speed using its world-class facilities and talent, which will enable us to rapidly move to commercial production in the near future, starting with our launch order for 200 trees for RAW Charging Group, a high growth UK- and EU-focussed EV charging service provider."

SolarBotanic has further partners involved in the project, including the Manufacturing Technology Centre (MTC) in Coventry, UK, and the Advanced Forming Research Centre in Scotland, of which both work under the HVM Catapult. Other partners include Brunel University London and the multinational logistics firm, Unipart Group.