Octopus Vehicles provides EV solutions to reach net zero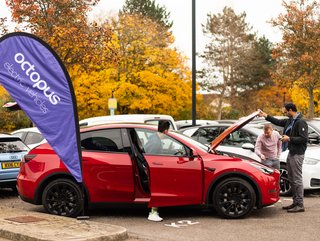 Fiona Howarth of Octopus Vehicles discusses the company's technical capabilities for EV adoption as it supports net-zero initiatives
Fiona Howarth has a critical role to play as the Chief Executive Officer of Octopus Electric Vehicles, as it addresses the barriers that businesses and consumers face in EV adoption.
What inspired you to join Octopus Vehicles?
The potential to make a positive difference inspires me. EVs play a huge role in decarbonising the planet; the sooner more EVs are on the road, the sooner we hit net-zero. I've always loved cars, but it was my Physics teacher back in school that helped me realise how crazy it is that we burn fossil fuels to power our homes and cars, when we don't need to. Ever since, with a few diversions, I've focused on sustainable technology, whether that be smart homes, electric motors, or alternative fuel vehicles, working with the likes of Dyson, BMW, and Hive by British Gas. With Octopus, there's a great sense of movement. It's going forward fast. And it's bringing people with it along the way. That's exciting.
When was Octopus formed and what milestones has it reached so far?
We launched Octopus EV in 2018. It's gone so fast. We have the latest tech - from cars to chargers, and we're the most trusted – a pure EV specialist. We're happy about the former but being trusted is more important to us. EVs are new and fast-changing. Our team are passionate EV drivers themselves and specialise in everything electric, helping others discover what it might be like.
As an EV company, what is Octopus' wider ethos and how much of it is motivated by sustainability?
We're part of the Octopus Energy Group, recently invested in by Al Gore's investment fund, Generation, and we all have a shared mission to use tech to help look after the planet. Octopus Energy itself supplies green energy to over three million homes in the UK, and offers tariffs especially designed for EV drivers. For example, OctopusGo lets you charge your car in the middle of the night for just 5p/kWh — the equivalent of one to two pence per mile, compared to 10 pence or more in a petrol or diesel car. We care about our customers and the planet. Plus, the new tech is incredible. For example, a Tesla powered by sunshine can go 0-60s quicker than a Lamborghini. So, we're here to do good, but we're having some fun while we're at it.
Which cars are proving most popular among your customers?
Well, as you'd expect, the Tesla Model 3 has been a hit for us. But it's just one of the 35 cars we have available, lining up alongside city runabouts, family-friendly SUVs, and luxury drives. Many more new models are rolling off the lines next year. 2022 is going to be big.
How do you monitor the sustainability of your supply chains?
We're proud to be part of Octopus Group, which is a certified B-Corporation. That means we follow B-Corp guidance and adhere to its parameters. We're at the nexus of automotive and energy — two of the most highly regulated industries out there. The employers that we work with don't just want an EV expert, they want to partner an ethical EV expert. While we don't manufacture vehicles ourselves, we're working with our suppliers and the industry as a whole to identify and support continuous improvement.
Evidently, all motorists need to transfer to EV – does this need to be incentivised with a scrappage scheme?
It worked for new diesel car registrations a decade or so ago. In fact, the government already has a range of great incentives for EVs today — from a grant on the car or van, or even ChargePoint at home, through to an exceptionally low company car tax rate for EVs — 1% today, rising to just 2% by 2025 (compared to over 20% for petrol and diesel cars). Plus, businesses can offer EVs to their employees as a benefit — on salary sacrifice schemes — letting team members save up to 40% on the cost of driving electric as the money is taken before income tax and national insurance.
What further sustainability and innovation goals is the company looking forward to in the coming years?
We keep it simple — we want to help more people get going electric. Right now, we're focused on businesses, and their employees. We help them pass on savings of up to 40% on the cost of EV driving to their people. Great for retaining talent, and great for attracting it in the first place. But ultimately, we're pressing for greater EV ambition, sooner. To limit our global temperature increase to 1.5 degrees, we need to see a reduction in carbon emissions of 45% by 2030, from 2010 levels. Given the 10+ year lifetime of cars, that means no more new petrol or diesel cars joining our roads well before 2030, so we're running a programme to identify and help solve any potential challenges that could slow us from scaling the better electric alternative.