How can electric vehicles sequester carbon emissions?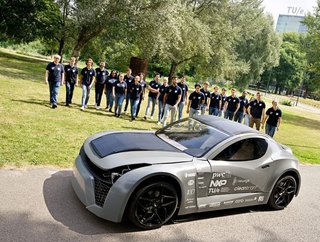 Students at Eindhoven University, Netherlands, prototype a vehicles that runs on electric vehicle (EV) technology and is capable of sequestering carbon
As much as we like to talk about electric vehicles (EVs), they are perhap not the be-all and end-all of sustainable mobility. Electrification marks an incredible shift in both the participation of automotive companies in reducing tailpipe emissions and the shift in sentiments around EVs as a feasible alternative to internal combustion engine (ICE) vehicles.

Eliminating carbon emissions is one thing, but perhaps manufacturers can be even more proactive in this process. A group of students at Eindhoven University of Technology, Netherlands, are showing just how far EVs can be pushed in order to have maximum positive impact on the environment.

They plan to eliminate emissions but all become net-positive, by incorporating carbon filtration into cars.

EVs can clean up the streets with carbon sequestration
The EV industry is evolving rapidly and once inconceivable initiatives are coming to fruition. The mobility sector is shaping up to be more intuitive and sustainable than ever before.
Businesses and climate activists could only dream of such a solution that could remove carbon from the atmosphere at a constant rate, but the team at Eindhoven University see no limitation to vehicles. Teased by TU/ecomotive for quite some time, the vehicle is known by the team as the Zero Emission Mobility (ZEV) vehicle, which is a fully-electric, battery-powered machine equipped with two filters to capture up to two kilograms of carbon for every 20,000 miles driven.
While a single vehicle alone cannot eliminate the world's carbon emissions, the ZEM vehicle illustrates a huge potential for cars to do more for the environment. To put this into perspective, installing the solution in 10 cars could achieve the same effect as the average tree.
To align the project with the team's carbon neutral target, careful consideration will be given to the materials of the vehicle; its components 3D printed using recycled plastics.
"It is really a proof-of-concept, but we can already see that we will be able to increase the capacity of the filter in the coming years," says the team's leader, Louise de Laat.
"Capturing CO2 is a prerequisite for compensating for emissions during production and recycling," which would act as a carbon offset for automotive firms.
The project takes what government leaders have been working on for years and brings it to fruition in an applicable way. Much of the technology is applied to the oil industry, but the use of carbon capture in the automotive industry provides much-needed emissions reduction activity in a highly polluting environment.
What businesses have found over recent years is the high cost of implementing carbon capture technology, which could be one of the major factors considered by the team as it pushes forward with the project and maximises efficiency.