Eve Air Mobility selects electric aircraft production site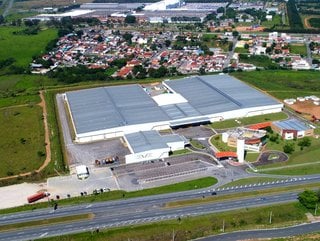 An image of Eve Air Mobility's production facility for manufacturing eVTOLs in Brazil
To become an e-mobility champion of the skies, Eve Air Mobility will deliver safe and quality eVTOLs with support from Embraer and a facility in Brazil
The untapped means of transport is yet to enter the global e-mobility ecosystem, but electric aircraft innovation is certainly making its way forward into the mainstream media. With a number of companies developing electric-vertical-take-off-and-landing (eVTOL) aircraft, the ability to travel more conveniently via aerospace is becoming more and more feasible.
The eVTOL developer Eve Air Mobility has been gaining traction in the delivery of its first aircraft and various agreements for partnerships and purchase intentions signed. But, the next step for the company, apart from finessing its aircraft, is to build a production facility to allow cost-effective assembly of its eVTOLs once the idea of more frequent air mobility becomes reality.

Why are companies yet to roll out eVTOLs?
Of course with any mode of transportation, safety and sustainability are the key factors that govern their use. Volocopter is the first company to have its aircraft certified by the Federal Aviation Administration (FAA) as safe for use back in 2018. Yet the idea is still fairly new and with more organisations delivering electrified aircraft, it's only a matter of time before regulators are forced to think about the impacts and benefits of eVTOLs.
For these machines to be used safely, they must meet the FAA's standards for low noise pollution and be capable of flying at least two miles away from an airport without interfering with current air traffic.
Eve Air Mobility's focus on eVTOL production
As of now, Eve and Embraer (the parent company of the eVTOL business) have agreed on a production facility based in Brazil located in Taubaté, in the state of São Paulo. The manufacturing plant is said to have suitable accessibility to main transportation routes and will also be supported by railroad access.
"When we began our search for a manufacturing location to build our eVTOL, we wanted to reimagine how the aircraft could be built using the latest technology and manufacturing processes, coupled with other aspects such as supply chain and logistics," says Andre Stein, Co-CEO of Eve.
"Our objective is to offer safe and reliable products and services to the market and be highly competitive in manufacturing efficiency. The team was tasked with the opportunity to design an optimised assembly line that prioritises safety, quality, efficiency, productivity, and sustainability."
The site will become the birthplace of some of the most innovative aircraft solutions in the world today, and will have an incredible impact on the future as more eVTOLs make it into the manufacturing phase.
"This decision is aligned with our growth strategy plan, which is driven by innovation and sustainability," said Francisco Gomes Neto, President & CEO at Embraer.
"We believe in the enormous potential of the global Urban Air Mobility market, and we reinforce our commitment to Eve as one of the major players in this industry."
******
EV Magazine is dedicated to creating a global community of businesses, experts, and EV enthusiasts with comprehensive insights into automotive and the surrounding sectors.
For more EV insights check out the latest edition of EV Magazine and be sure to follow us on LinkedIn & Twitter.
You may also be interested in Sustainability Magazine and Energy Digital Magazine.
Please also check out our upcoming event - Sustainability LIVE in London on September 6-7 2023.
BizClik is a global provider of B2B digital media platforms that cover Executive Communities for CEOs, CFOs, CMOs, Sustainability Leaders, Procurement & Supply Chain Leaders, Technology & AI Leaders, Cyber Leaders, FinTech & InsurTech Leaders as well as covering industries such as Manufacturing, Mining, Energy, EV, Construction, Healthcare + Food & Drink.
BizClik – based in London, Dubai, and New York – offers services such as Content Creation, Advertising & Sponsorship Solutions, Webinars & Events.​​​​​​​