Volta Trucks pushing lower commercial vehicle emissions
Volta Trucks is targeting two major cities to showcase its Truck as a Service commercial EV while providing clients operations and maintenance services
New organisations have arisen to tackle climate change as the electric vehicle (EV) industry's primary goal at the moment. As cities target lower emissions, the logistics sector is experiencing rapid changes in the powertrain delivery vehicles, which is where the company Volta Trucks will flourish.
As can be seen through the actions of Amazon and Rivian Automotive, there is a major push towards electrification in the sector. This trend is the reason why Volta Trucks has now put together a concept for its 'Volta Trucks Studio', which acts as an exhibition of its Volta Zero product.
What is Volta Zero?
A triumph in both electrification and safety, Volta Zero is the company's offering to the EV market. The 16-tonne commercial vehicle has been showcased in various cities last year and comes with a whole host of benefits in comparison to conventional delivery trucks.
The vehicle was developed by the Stockholm-based manufacturer in an effort to decarbonise inner-city last-mile logistics, but also to make the job safer with wider visibility around the truck and better functionality. The vehicle has a fully-charged range of 200km and sports a modern looking design that gives the driver a 220-degree direct panoramic view. The remaining vehicle visibility is taken care of with fitted cameras to allow the maximum field of vision.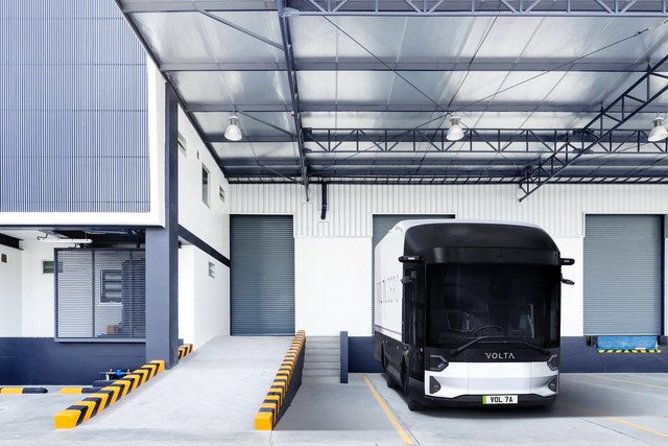 Vehicle Specification:
Standard battery specification: 150kWh battery
High capacity specification: 225kWh battery
Top speed: 56mph (90km/h)
Battery range: 90 -125 miles (150 - 200km)
Vehicle payload: 8,200kg
Total vehicle length: 9.2m
Connectivity is another major selling point of the Volta Zero as it leverages the latest technologies in its efforts to be the safest sustainable truck. It's capable of over-the-air (OTA) software updates, meaning the vehicle's computer can be altered and updated wirelessly. Remote diagnostics provides data insights while the vehicle is on the road or in the depot, which goes hand-in-hand with its remote logging and data collection capability.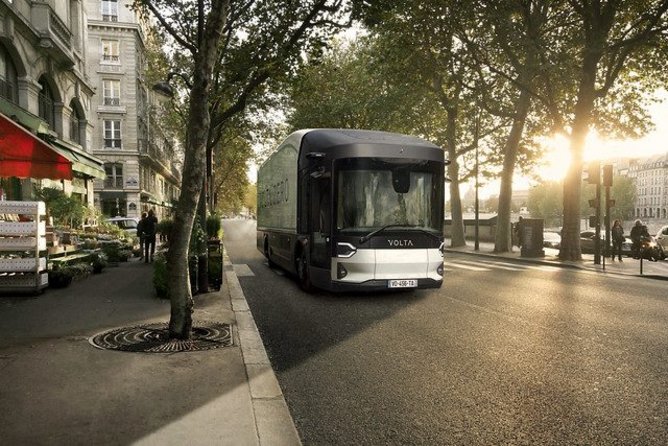 Bringing Volta Trucks' EVs to low-emission cities
The Volta Trucks Studio will allow the company to showcase the decarbonise benefits of the Volta Zero with the first concept developed alongside its plans for headquarters in Paris, France. This comes as the city paves the way for electrification, by eliminating fossil-fuel-powered vehicles by 2024. This marks the country's shift as all French cities plan to reach this target, meaning 150,000 residents will adopt low-emissions zones. The French government has also signed off on incentives of up to €100,000 to support those making the transition.
"Since its inception, Volta Trucks has taken an innovative, industry-redefining, customer centric approach to commercial vehicles. The ground-up design of our full-electric Volta Zero and our unique Truck as a Service ownership model are two good examples. Now, we will redefine the face-to-face customer experience with the first of many Volta Trucks Studios, located near where our customers live and work," says Essa Al-Saleh, CEO and Board member at Volta Trucks.
"Customers tell us that they don't want to visit a large, old-school, out-of-town showroom where, inevitably, the truck they want isn't on display. They would like to have discussions with a product expert in an intimate and non-pressured environment."
The company also has plans in the making for a Volta Trucks Hub, which is said to be based in London as well as Studio operations at the company's Commercial and Research and Development base between Reading and Bracknell. More locations of Studios and Hubs are expected as the company makes plans to expand awareness across EU countries.