Skoda's EV era breaks misconceptions of the automotive brand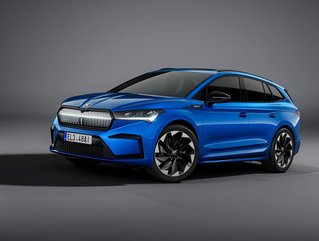 Credit: Skoda | The Enyaq iV is a new-era vehicle for the Skoda brand, which has transformed into a premium business over the years
Electrifying the Skoda vehicle range brings with it inherent premium status as an EV manufacturer—interior is key for Peter Olah, Head of Interior Design
The Skoda name received negative feedback and some mockery over the years. Seen as a budget option for those looking to purchase a vehicle built by a Volkswagen Group subsidiary, it was often a joke to say that Skoda cars were lacking an engine or, in my experience, were said to be powered using hamsters in wheels.
This isn't to drag up the past connotations of the brand, but merely set the scene for the journey it has endured leading up to its current position in the electric vehicle (EV) world.
From internal combustion engine (ICE) to electric propulsion, the company has seen it all and delivered some pretty impressive-looking cars in the race to meet climate change targets. The Enyag iV was the first of its EVs to break into the market, now with a few different configurations and body types, which certainly commands a presence on the road. The baseline model of this electric car achieves a 339-mile range, which is up there with premium standard EVs.
So, why is Skoda relevant in 2023 and, more importantly, in a decarbonising automotive industry?
The company is looking to influence companies to take that all-important plunge into the future and switch their fleets to EVs without looking back. Now featuring a Coupe model of its Enyaq iV, the company has a couple of options suitable for an all-electric fleet. No longer burdened by preconceived ideas of its performance, the brand has entered the premium market.
Of course, there are many things to consider when choosing an electric car model (or models) for a commercial fleet, which is why Skoda provides useful material to understand why its cars meet the requirements.
Beyond its two different vehicles and their interior and exterior variances, the Fleet Pack also details some of the key pieces of information to be considered in choosing a new fleet EV. This includes the driving factors, such as:
Driving style and speed
The use of in-cabin technologies like air-con and heating
Vehicle load capacity
Other digital systems with the car
When looking at environment factors, the brochure explains the key factors that impact the driving range:
Outside temperature
The conditions and style of road used
Extreme weather conditions
Developing the interior experience of all automobiles
There's more to Skoda these days than just the powertrain. The interior experience of its cars is evolving rapidly and they have a certain air of modern luxury about them.
This is something that the company has been perfecting across its entire vehicle range, which is centred around more intuitive vehicle usage and puts the customer at the heart of how the car operates. Simplicity is key, but in a clever way. Sustainability is paramount.
Each of its cars receives the quality treatment of a premium brand, which is an incredible shift in perception from the once underestimated brand.
While the company's Head of Interior Design Peter Olah commented on this in regards to some of its ICE models, these practices will likely carry over to the electrified range as the company shifts its focus to sustainability.
"Skoda interiors stand for intuitiveness, simplicity, customer focus, and smart solutions," Olah said in a previous news release.
"Our latest innovation, Skoda Smart Dials, has expanded the intuitive options for controlling the car's functions, combining the best of both worlds: physical controls and digital displays. The fresh interiors of the Kodiaq and Superb now feature a large, free-standing display, a steering column-mounted gear selector, and an uncluttered centre console. These enhancements have paved the way for a more spacious and cosy interior that not only catches the eye but also offers practicality and genuine added value for our customers."
******
EV Magazine is dedicated to creating a global community of businesses, experts, and EV enthusiasts with comprehensive insights into automotive and the surrounding sectors.
For more EV insights check out the latest edition of EV Magazine and be sure to follow us on LinkedIn & Twitter.
You may also be interested in Sustainability Magazine and Energy Digital Magazine.
*********************************************
BizClik is a global provider of B2B digital media platforms that cover Executive Communities for CEOs, CFOs, CMOs, Sustainability Leaders, Procurement & Supply Chain Leaders, Technology & AI Leaders, Cyber Leaders, FinTech & InsurTech Leaders as well as covering industries such as Manufacturing, Mining, Energy, EV, Construction, Healthcare + Food & Drink.
BizClik – based in London, Dubai, and New York – offers services such as Content Creation, Advertising & Sponsorship Solutions, Webinars & Events.