Lunaz converts Biffa commercial fleet trucks to electric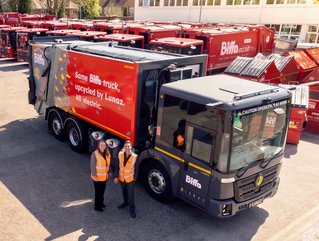 Biffa's partnership with Lunaz Group results in its first electrified, upcycled waste disposal truck
The electric vehicle conversion business Lunaz delivers retrofit architecture to Biffa to decarbonise its fleet of waste collection and disposal trucks
Partners are vital in sharing new ideas for electric transportation and commercial fleet decarbonisation. Aside from making or purchasing new electric fleet vehicles, firms are doing their best to figure out how conversion will play a role in electrification as more companies consider electric vehicles (EVs) to be the most sustainable options long term.
This excludes no industry. Thanks to a small innovative business called Lunaz, we're able to visualise a new pathway to all-electric vehicle rollout, which involves converting heavier vehicles to transform them into zero-emission models.
Lunaz has taken a rather unorthodox approach to business, which previously may not have been viewed as a major contribution to the transition from fossil fuel cars, but the company surprises us with its recent news. Previously, the company developed a number of solutions to convert some iconic cars to prolong their lives on the road, including the Aston Martin DB6—a car known for featuring in a number of James Bond films, and an all-round fantastic looking classic car.
The niche EV business made a statement in its project with the waste collection and disposal business, Biffa.
"The streets of Milton Keynes and Manchester provided a challenging real-world test for the Lunaz UEVs, and I'm pleased to say they passed with flying colours," says Maxine Mayhew, COO Collection & Specialist Services at Biffa.
"Our drivers and operatives were seriously impressed with how the trucks performed and the successful trial means we can now move forward with our initial order of 26-tonne upcycled UEVs, saving up to 210 tonnes in embedded carbon."
By delivering electrical architecture for some of Biffa's existing trucks, Lunaz was able to not only upcycle some vehicles that would otherwise be broken down for waste, but also enabled great performance in multiple areas with which waste trucks are likely to be driven.
This project marks a major advantage for fleet operators that are looking to switch their fleets to all-electric. By retrofitting existing trucks with new electrical powertrains, businesses can lower their costs of switching but also create lower maintenance vehicles with less impact on the planet.
"This agreement represents a key milestone for Biffa highlighting progress towards our sustainability and decarbonisation goals. By working with Lunaz to meet our goal of buying no more fossil fuelled vehicles by 2030 while breaking the replace-with-new cycle, we are pioneering an approach in this industry," says Mayhew.
The Lunaz Founder David Lorenz also commented on this great strategy that will likely strike a better balance between new trucks and upgraded vehicles.
"This is a landmark moment for Lunaz – the culmination of more than two years' intensive development and comprising simulated and real-world testing for our upcycled electric refuse trucks," says Lorenz.
"Seeing our trucks enter service with Biffa, the UK's largest operator in the waste management sector, is irrefutable proof of their reliability, capability and durability, and a clear demonstration that electric power is both technically and commercially viable in this demanding application.
It's always seemed paradoxical, and frankly wrong, that diesel refuse trucks should themselves be thrown away at the end of their useful lives. We're breaking that destructive replace-with-new cycle and making refuse trucks themselves part of the solution. Lunaz is proud to take out the rubbish."
As a result of this project, leverage Lunaz Applied Technologies (LAT) the company supports Biffa's commitment to reduce emissions by 50% by 2030, which expands on a 70% reduction since 2002.

******
EV Magazine is dedicated to creating a global community of businesses, experts, and EV enthusiasts with comprehensive insights into automotive and the surrounding sectors.
For more EV insights check out the latest edition of EV Magazine and be sure to follow us on LinkedIn & Twitter.
You may also be interested in Sustainability Magazine and Energy Digital Magazine.
*********************************************
BizClik is a global provider of B2B digital media platforms that cover Executive Communities for CEOs, CFOs, CMOs, Sustainability Leaders, Procurement & Supply Chain Leaders, Technology & AI Leaders, Cyber Leaders, FinTech & InsurTech Leaders as well as covering industries such as Manufacturing, Mining, Energy, EV, Construction, Healthcare + Food & Drink.
BizClik – based in London, Dubai, and New York – offers services such as Content Creation, Advertising & Sponsorship Solutions, Webinars & Events.