Jaguar Land Rover converts factory for its EV expansion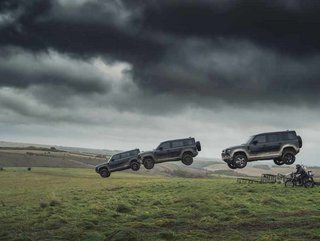 The British automaker furthers commitment to electrification through the conversion of its facility to produce EVs with its dedicated EMA vehicle platform
A popular luxury vehicle manufacturer, Jaguar Land Rover's (JLRs) retail vehicle sales reached 79,008 in the quarter ending 31st March 2022. The company entered the electric vehicle (EV) market in 2018 with the introduction of its Jaguar i-Pace and has since pushed forward with its electrification strategy.
The company is the proud operator of the Halewood plant—a production facility on the outskirts of Liverpool, UK, which was opened by Ford in 1963. JLR acquired the factory in October 2014 and has since used the facility for the production of its vehicles, and will now be converted to an EV production facility.

The company was previously owned by Ford before it was sold to Tata Motors in 2008, which marked the combination of both the Land Rover and Jaguar brands to create the business it is today.

Jaguar Land Rover's EV offerings
With an acceleration of 0-60mph in just 4.5 seconds, the Jaguar i-Pace was one of the company's first EVs to be seen on British roads. Out of the box, the car achieves around 292 miles per charge (based on WLTP) and charges from 0-100% battery in 12.7 hours with a 7kW AC home charger.
Despite this being the first car from JLR to use a plug instead of a pump, the vehicle's sales have fallen in recent months with its year-on-year sales decreasing 37.9% to 14,574 units.
Despite the Jaguar brand making the jump, Land Rover has been slow to adopt EVs with the company's ultra-refined, ultra-luxury SUV brand currently selling a plug-in hybrid electric vehicle (PHEV) and a mild-hybrid electric vehicle (MHEV). However, the company has already advertised the development of its electric Range Rover model, which is set to drop in 2024.
Expanding its electrification efforts
JLR shared its 'Reimagine' strategy in 2021, which outlines its commitment and pathway to the production of all-electric vehicles by the industry's 2030 deadline. As the company's CEO, Thierry Bolloré explains the company will host "two brands. Two distinct personalities. Both connected by the elements of quality and sustainability that underpin Jaguar Land Rover's future of modern luxury by design."
The Halewood facility is now preparing to be taken over by electrification experts and engineers that commit to the company's plans to enter the zero-emission automotive space.
The plan is to build its vehicles on a new electrified modular architecture (EMA), which is designed purely for electric vehicles—differing from JLR's modular longitudinal architecture (MLA) that was developed for its larger vehicles and hybrid models.
The company's EMA platform is currently enduring approval for use in engineering its EV lineup and, along with the Halewood facility, will allow JLR to "increase production capacity for new model lines."