DHL drives EV industry transformation with Auto-Mobility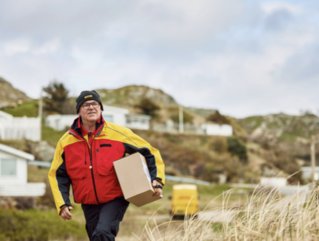 Credit: DHL | Driving electric transformation through fleet adoption and EV supply chain systems
Auto-Mobility is a service for the supply chain as DHL's Fabio Sacchi explains how its supports electrification throughout the EV and battery lifecycles
There is a much larger focus on the fleet market this year. Now that passenger-electric cars are here and the sector is growing fast, it's about time that things ramped up a bit.

Realistically, without the transition of logistics, the work of the electric vehicle (EV) industry could be undone. Many of the emission contributions to global carbon emission come from supply chains and how they choose to manage their operations—centred around the transport mechanism themselves.

The global logistics provider DHL has experienced many forms of investment in its time, but electrification could perhaps be the most crucial one yet. The company prides itself on driving change, which is what put the company at the top of its game following its founding in 1969.

Not just a commercial name, but a household one, DHL is now taking strides to transform the way it delivers with environmental sustainability at the heart of its business. The company's Auto-Mobility Solutions prove testament to this as they address cost efficiency, the use of data and analytics, and produce safety and security outcomes—all continuously developing to meet the needs of a changing world.

Electric mobility (e-mobility) at DHL isn't just about road transport either. Last year, the company committed to all-electric aircraft, which will contribute to its net-zero emissions strategy by substituting some of its air freight capabilities across nations.

Electrification is about more than just sustainability
DHL recognises a number of benefits to come from this transition. The company is relentlessly working to deliver opportunities for the Auto-Mobility sector, which will be achieved through a number of means.
Logistics is a key component of ensuring a steady supply of EVs to consumer and enterprise markets, which is where DHL comes in.
"At DHL, we're enabling the electrification of cars, vans and trucks, for example, by developing our EV battery logistics solution to manage the full EV battery lifecycle from specialist storage, handling and delivery to the collection for repair, recycling and safe, sustainable disposal," says Fabio Sacchi, VP EV Logistics Business and Commercial Development at DHL Customer Solutions & Innovation.
Battery-powered logistics is the first transformation to be made, which supports the overall lifecycle of EVs from the manufacturing phase to the recycling and disposal of key battery components. This is also accompanied by component sourcing and increasing resilience in these supply chains to generate a consistent flow of parts to build battery-electric vehicles (BEVs) much more efficiently and at lower costs. DHL prides itself on its ability to reverse logistics for batteries through modular end-to-end logistics solutions.
Alongside this, the Auto-Mobility solution enables visibility and strategic warehousing by leveraging smart monitoring solutions, optimising storage space, and delivering components more sustainably. Finished vehicle delivery is also a major part of DHL's repertoire, which, as we've seen in the news, is no mean feat. It's safe to say that EV transportation requires delicate work and attention to detail to ensure that these impactful cars aren't so for the wrong reasons.
Learn more about DHL's Auto-Mobility solutions and its personal endeavours to switch to all-electric.
******
Further insights can be found on our website or click here to receive our newsletter with a constant feed of new stories every week.
EV Magazine is dedicated to creating a global community of businesses, experts, and EV enthusiasts with comprehensive insights into automotive and the surrounding sectors.
For more EV insights check out the latest edition of EV Magazine and be sure to follow us on LinkedIn & Twitter.
You may also be interested in Sustainability Magazine and Energy Digital Magazine.
Please also check out our upcoming event - Sustainability LIVE in London on September 6-7 2023.
BizClik is a global provider of B2B digital media platforms that cover Executive Communities for CEOs, CFOs, CMOs, Sustainability Leaders, Procurement & Supply Chain Leaders, Technology & AI Leaders, Cyber Leaders, FinTech & InsurTech Leaders as well as covering industries such as Manufacturing, Mining, Energy, EV, Construction, Healthcare + Food & Drink.
BizClik – based in London, Dubai, and New York – offers services such as Content Creation, Advertising & Sponsorship Solutions, Webinars & Events.