Charging & Infrastructure
General Motors announces Ultium bi-directional EV charging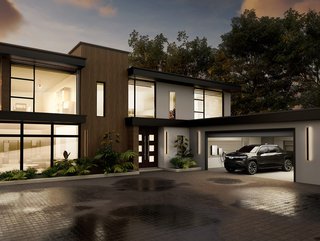 Credit: GM | The Ultium solutions integrates EV and home using bi-directional charging
Wade Sheffer, Vice President of GM Energy shares the release of General Motors' bi-directional charging technology bringing efficiency to EV ownership
Automotive companies are intrinsically motivated by the events of the energy sector, which is why we see many of them adopting solutions of their own and, in the case of General Motors (GM), creating a dedicated arm of the business to develop the infrastructure that makes electric vehicle (EV) ownership more successful.
An announcement from Detroit, Michigan, comes as the company expands its vehicle-to-home (V2H) offering, which consists of bi-directional charging and energy management for its Ultium-based portfolio.
As of 2024, the company's new vehicles will become smarter with many of its 2024 models expected to leverage this new technology, including the Chevrolet Silverado EV RST, the GMC Sierra EV Denali Edition 1, Chevrolet Blazer EV, Chevrolet Equinox EV, Cadillac LYRIQ, and the ESCALADE IQ.

"GM Energy's growing ecosystem of energy management solutions will help accelerate GM's vision of an all-electric future by further expanding access to even more benefits that EVs can offer," says Wade Sheffer, Vice President of GM Energy.
"By integrating V2H across our entire Ultium-based portfolio, we are making this groundbreaking technology available to more consumers, with benefits that extend well beyond the vehicle itself, and at a broader scale than ever before."
Why is bi-directional charging so important to the consumer?
Having a smart meter is one thing, but a solution to physically manage performance-based energy is a greater benefit to consumers in terms of cost. The technology has been around for a while in various forms, but ultimately allows homeowners to leverage their cars to make the most of night-time and off-peak energy rates while also managing energy usage more intuitively.
The integration of bi-directional charging with renewable energy products brings homeowners closer to managing their own microgrids and driving down their contributions to carbon emissions.
GM Energy's home EV offerings
Customers of GM will be equipped with more intuitive charging capabilities thanks to the increased compatibility of its vehicles with the grid. Ultium Home offering and the GM Energy Cloud will be available to the customers purchasing its 2024 Cadillac, Chevrolet, and GMC vehicles.
This includes the Ultium Home V2H Bundle comprising the GM Power Shift Charger and Ultium Home V2H Enablement Kit, which collectively provides customers with 19.2 kW AC charging speed and 9.6 kW of discharge power safely integrated into and removed from the grid.
Further offerings include the Ultium Home Energy Storage Bundle—GM's PowerBank, inverter and home hub—and its Home Energy System that incorporates both charging and energy storage.
******
Further insights can be found on our website or click here to receive our newsletter with a constant feed of new stories every week.
EV Magazine is dedicated to creating a global community of businesses, experts, and EV enthusiasts with comprehensive insights into automotive and the surrounding sectors.
For more EV insights check out the latest edition of EV Magazine and be sure to follow us on LinkedIn & Twitter.
You may also be interested in Sustainability Magazine and Energy Digital Magazine.
Please also check out our upcoming event - Sustainability LIVE in London on September 6-7 2023.
BizClik is a global provider of B2B digital media platforms that cover Executive Communities for CEOs, CFOs, CMOs, Sustainability Leaders, Procurement & Supply Chain Leaders, Technology & AI Leaders, Cyber Leaders, FinTech & InsurTech Leaders as well as covering industries such as Manufacturing, Mining, Energy, EV, Construction, Healthcare + Food & Drink.
BizClik – based in London, Dubai, and New York – offers services such as Content Creation, Advertising & Sponsorship Solutions, Webinars & Events.