SUSTAINABILITY LIVE: Gridserve, Pod Point, Hitachi Vantara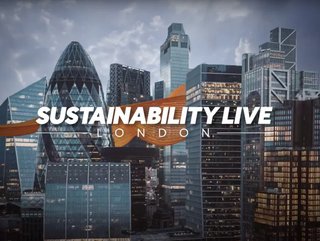 Sustainability LIVE London 2023
SUSTAINABILITY LIVE London will soon be returning to the Business Design Centre, with speakers from Grid Serve, Pod Point, Hitachi Vantara, PMI, and AWS
SUSTAINABILITY LIVE London will be back at the Business Design Centre on September 6th and 7th 2023.
The two-day event will feature influential individuals from various industries exchanging concepts and proven solutions while offering practical insights to drive us toward a sustainable future.
What's more, the conference will feature more than 70 globally recognised leaders in sustainability, addressing vital aspects of this field. Whether it's delivering industry expertise or engaging in topical discussions, expect our speakers to explore issues impacting both our present and future.
Grab your FREE ticket here.
Start planning your event now, by learning about six new speakers who will take the spotlight.
Time: 12:00pM
Date: Thursday 7th September 2023
Location: Stage one
With over 12 years of experience at Pod Point, James is a passionate advocate of electric vehicles, following a career as an environmental consultant. As Pod Point's longest-serving member, James has worked in sales, customer operations and as the company's head of insights, before becoming head of policy and public affairs, tasked with interfacing with government, industry and key stakeholders, sharing his knowledge on all things EV and EV charging.
The Sustainable Transport Forum: EV and Mobility featuring Martin Kochman, VP, Customers and Industries , Hitachi Vantara and Sam Clarke, Chief Vehicle Officer, GridServe
Time: 12:45PM
Date: Wednesday 6th September 2023
Location: Stage two
Martin Kochman is a VP in Hitachi Vantara's European Digital Services business. He specialises in running major data driven programmes and was responsible for 'Optimise Prime', the world's biggest commercial electric vehicle project. The objective of the Optimise Prime project was to test the end-to-end impacts of the rollout of commercial electric vehicles and develop innovative solutions to accelerate the EV transition. This four year innovation project came up with practical ways of overcoming the up-front costs that are currently holding back many of the country's biggest commercial vehicle operators from making the switch to EVs. Martin is also leading other key data driven sustainability programmes within Vantara, including the implementation of EV charge points and the creation of sustainability analytics and reporting.
Sam is a life-long entrepreneur, Electric Vehicle 'Evangelist', industry advisor and EV owner/driver for over 20 years. His entrepreneurial journey started back in 2002 with electric motorbikes and scooters before embarking on emission-free logistics (Gnewt) which he sold to John Menzies Plc in 2017. He now works on national charging infrastructure (GRIDSERVE) to support all types of EV charging. In 2015, Sam was a Great British Entrepreneur's Award winner. By 2022 he was voted #5 in the Motor Transport Power Players list and awarded a GreenFleet EV Champion award for services to the industry in the same year. In 2023, he was voted #23 in the greenfleet.net top 100 most Influential list.
Tobias Kederer, EMEA Head of Sustainability & Migrations/ Modernisation, AWS
Time: 10:00AM
Date: Thursday 7th September 2023
Location: Stage one
Tobias Kederer leads the EMEA AWS Sustainability and Migration Practice for Professional Services. His team of experts partners with enterprise customers to migrate to the cloud and then leverage cloud capabilities to innovate which includes accelerating the sustainability transformation of AWS customers through the use of data analytics, Machine Learning and Artificial Intelligence.
Time: 10:40AM
Date: Wednesday 6th September 2023
Location: Stage two
David heads up the Solutions Team at VIRTUS, working with all customers to provide them with innovative, customised solutions to meet their needs. He has been at VIRTUS since 2009, originally as Head of Operations.
Jon Sankey is an experienced Head of Business Development for Bristol at Vattenfall Heat UK. He brings a wealth of expertise to the role, having previously worked on Bristol City Council's ground-breaking heat network team which has made significant progress in decarbonising the city.
Often seen riding his bike around Bristol from meetings to site visit, Jon is responsible for driving the city's uptake of district heating from connecting new and existing residential, community and commercial buildings. He is focused on accelerating the build-out of the heat network and decarbonising additional areas of Bristol, providing affordable low-carbon heat to more people.
Born and still living in the city, Jon acts as a key interface between Bristol City Leap and its partnership with Ameresco, the Council and, most importantly, the local community.
Time: 9:00AM
Date: Thursday 7th September 2023
Location: Stage one
Through her role at Kearney, Angela advises clients in the automotive, transportation, retail and consumer goods sectors on sustainability strategy and adoption.
She was appointed Transport lead by the Climate Champions for COP26, where the ZEV declaration and the Playbook for Zero Emissions Mobility were launched.
Angela previously worked as Head of Sustainable Mobility at Ingka Group (IKEA Retail), as part of the Policy and Strategy team. During her time at IKEA, she focused on sustainable transport and mobility, circularity and sustainable investing.
Angela studied Social Science at The University of Gothenburg and has a Master of Laws from Lund University. She has had a diverse career including organisations such as PWC and Scania.
Time: 11:05AM
Date: Thursday 7th September 2023
Location: Stage one
Appointed Philip Morris International's (PMI) first female chief sustainability officer (CSO) in October 2020, Jennifer Motles orchestrates the company's ambitious sustainability agenda – including its vision of transforming for good and phasing out cigarettes. She is driving the integration of the company's financial and non-financial performance, and after joining PMI in 2015, helped craft the company's statement of purpose as well as its transformation and sustainability strategies.
As CSO, Jennifer leads the company's process for establishing concrete sustainability definitions, documentation and controls with the aim to standardise how PMI measures ESG performance. Additionally, Jennifer has driven PMI to increase the pace of its ESG initiatives, including bringing forward its carbon neutrality targets and activating new innovations within the company.
PMI's Low-Carbon Transition Plan (LCTP), published in October 2021, includes a detailed strategy to decarbonise its direct operations by 2025 and across its entire value chain by 2040. Jennifer also spearheads the company's annual Integrated Report, which communicates the progress PMI is making toward achieving its sustainability aspirations, including its transformation to accelerate the end of smoking.
Don't miss out on this industry event - grab your FREE ticket here.
**************
EV Magazine is dedicated to creating a global community of businesses, experts, and EV enthusiasts with comprehensive insights into automotive and the surrounding sectors.
For more EV insights check out the latest edition of EV Magazine and be sure to follow us on LinkedIn & Twitter.
You may also be interested in Sustainability Magazine and Energy Digital Magazine.
Please also check out our upcoming event - Sustainability LIVE in London on September 6-7 2023.
BizClik is a global provider of B2B digital media platforms that cover Executive Communities for CEOs, CFOs, CMOs, Sustainability Leaders, Procurement & Supply Chain Leaders, Technology & AI Leaders, Cyber Leaders, FinTech & InsurTech Leaders as well as covering industries such as Manufacturing, Mining, Energy, EV, Construction, Healthcare + Food & Drink.
BizClik – based in London, Dubai, and New York – offers services such as Content Creation, Advertising & Sponsorship Solutions, Webinars & Events.